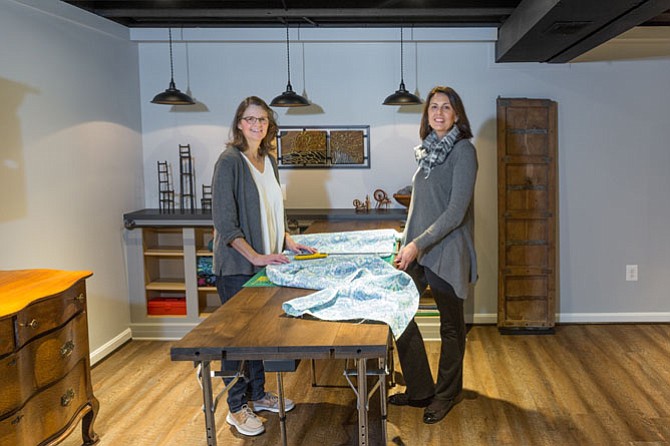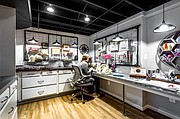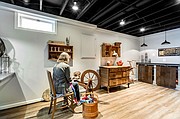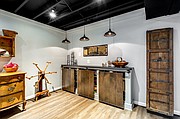 Nothing inspires renewed hobbying interests like children leaving the house. Parents — affectionately dubbed "empty-nesters" by demographers — are now left to their own devices, and there's new square footage to conjure with. Maturity being a precious commodity, one doesn't dawdle.
Certainly Shafer Dobry of Herndon subscribes to this theory. An artist who has worked with fibers since college, Dobry had maintained a basement space for her sewing projects for years, even selling her work online and at crafts shows. It was workable space, but shared with accumulated oddments, a designated TV-viewing zone and clutter.
When a son moved out last year though, Dobry seized the day: a chance to convert the 620-square-foot basement into a productive artist's studio with dedicated workstations devoted to key phases in a sequential process, and a library of fabrics, threads and yarns filed for easy access.
To this end, Dobry called in Dory Clemens, a designer at Foster Remodeling Solutions, whom she had met at a home show. Approaching the studio makeover proposition, Clemens was intrigued by the question of exactly what is entailed in custom-designing a fiber arts studio.
"There are essential pieces of equipment that require a dedicated workstation," Clemens said. "But Shafer has her own techniques regarding which phases are to be hands-on and which aren't. I soon realized there wasn't a patented tool for every task. Fiber art is something of a folk art … where technique follows inspiration."
That's when Clemens saw that Foster's skilled carpenters might prove handy in helping her client take her process to the next level.
"We would discuss how she worked," Clemens said, "and I would suggest built-ins our carpenters could create that might advance her process."
Chief among these is a cutting table which now occupies a back corner of the room.
Three feet high and with a top that measures 8 feet by 1 foot, the work table has been designed as a modular platform that provides the waist-high flat surface needed for cutting fabric, and for assembling the combinations that might be employed in the final art piece.
There are three panels — each with a 2-foot by 2.5-foot surface. Panels can be raised independently, or linked together as a three-part unit for cutting larger pieces. Pipes and hooks keep the table solid and unified. The base also provides shelving for storing bolts of fabric. When the cutting is over, the panels can be folded down to form a sliding door on an otherwise nondescript credenza.
As a space plan, the room has been zoned to support the two primary phases of Shafer's creative process.
A 10-foot by 10-foot work cubicle formed by U-shaped laminate counter-surfaces and situated on LVP (Luxury Vinyl Plank) flooring is set up to facilitate sewing and knitting. An ergonomic office chair on casters allows Shafer to roll from sewing machine to knitting machine, retrieving threads and yarns at will, and scrutinizing fabric bolts … all without standing.
Old mattress springs ("found objects," as Shafer calls them) mounted on the two walls offer buttons, threads, curiosities, notions into the artist's hands. Meanwhile, overhead task lighting provides the illumination needed for close-in work.
In an adjacent space one finds tools of the knitting trade, many of which are antiques. There's an Ashford spinning wheel; a six-spoke yarn "winder" (also an antique); several support spinners; and an umbrella swift.
Shafer says she is in the studio daily and that the environment is conducive to producing her art which she mostly sells online at www.etsy.com/shop/needleclicksEtc.
The former basement interior, with English pub finishes, has disappeared without a trace.
"There was a dropped-ceiling before, which made the room feel smaller," Shafer says "Dory was essential in helping us pursue non-traditional design ideas. Removing the ceiling, for instance. raised the height of the room about a foot. That's then I saw the potentials for more industrial ambiance — much like one sees in more urban art studios."
As interior design process got underway, Clemens suggested painting the exposed rafters and duct work matte black. The perimeter walls are Grey Screen. Combined with the lighter-tone flooring, the effect is restful.
Shafer and her husband Michael also use the re-designed space to work out on their rowing machine, practice yoga, and enjoy music and video in a comfortable part of the room devoted to home entertainment.
"This really brings a lot of useful interests into one place," Dobry said. "It's a real lifestyle boost for both of us."
Foster Remodeling Solutions will be sponsoring a seminar March 7 at 10 a.m. titled "Big Impact, Small Space." The event will be held at its offices and showroom in Lorton. For information call 703-550-1371 or sign up now at www.fosterremodeling.com/remodeling-resources/seminars-and-sign-up/ .
An open house of an Arlington home recently remodeled by Foster Remodeling Solutions will be held on March 24. Call for details and to register.
John Byrd (byrdmatx@gmail.com) has been writing about home improvement for 30 years.