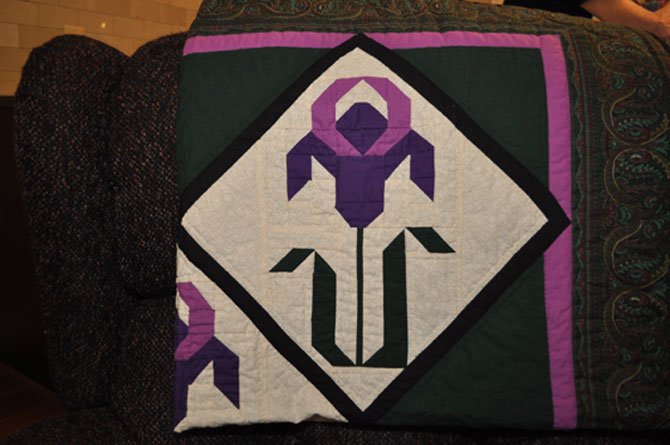 Quilting takes patience; ditto the steps entailed in setting up a quilting studio all of one's own.
Such are the reflections of Wanda Rogers, 72, who is now tapering off a 51-year professional career, and increasing precious hours spent in the pursuit of a mountain-state handicraft she learned from her mother and grandmother.
"We were all quilters where I grew up in West Virginia," Rogers recalls. "My mother, my grandmother, my aunt. The originality of a quilt's pattern is the larger artistic goal, but it takes a lot of concentrated quiet time to achieve it. Between raising children, moving frequently and then working, there just weren't a lot hours for quilting before now, much as I love it."
The particularly hectic phase of Rogers' young married life included setting up 18 different households in places where husband Ted, an Air Force pilot, was stationed. In the early 1980s, the family finally settled into a 2,533-square-foot ranch house on two acres near Springfield.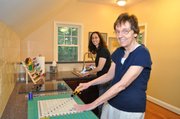 Three years ago, when Ted retired, the couple collaborated with remodeler David Foster in transforming the ranch into a substantially enlarged and upgraded "dream house," complete with a two-car garage topped by a future quilting studio.
"I knew my plans were getting closer to reality when we added drywall to the attic room above the garage, " Rogers says. "Once the space was shelled-in, I began to see how the studio would look and function."
For the next three years, however, Rogers kept up her a daily work schedule with a healthcare consulting firm, a job that required frequent out-of-town meetings.
"We had installed temperature controls in the studio when we remodeled the house," Rogers says. "Everything was well-insulated and bright, so I moved-in an easy chair and started thinking about what I wanted to do."
Last year, Ted presented Wanda with a professional quality Bernina Sewing Machine, and the studio makeover got underway in earnest.
"We designed the suite specifically to support Wanda's creative process," says Foster, who has operated Foster Remodeling Solutions for more than 35 years. "We had to allocate enough floor space in the middle of the room so she could completely lay out a quilt in progress. Her process also requires a way to keep carefully catalogued materials within easy reach."
AT 400 SQUARE FEET, with large windows on both the eastern- and western-facing walls, the studio is flooded with natural light during the day, an effect Wanda finds inspiring. The hickory wood flooring, apart from its lovely asesthetics, is entirely functional as a surface for cutting and assembling fabrics. Built-ins on either side of the assembly area have been custom-designed to hold specific fabrics and other essentials. Rogers says some of the fabrics date back to the 1930s and were passed down from her grandmother.
"All the women in the family were active in quilting bees" Rogers recalls. "One of my aunts' designs was featured over the cover of a national magazine. We were also active in the National Quilting Symposium".
But for all its delicacy of color and pattern, a quilt must also be functional as a bed cover. To assure the end-product is well-made, Rogers employs a Bernina "surger" which stitches finished overlock seams on the side of the quilt opposite from the display pattern. Since Rogers likes to regularly consider fabrics in a variety colors, shades and textures, the studio offers some 64 cubic feet of additional storage space behind each wall.
Like most dedicated artisans, Rogers insisted on a self-sufficient studio that would allow her to stick with a developing vision without interruption. Hence, the kitchenette, the full bath with walk-in shower. Also, the Advantium oven; two-burner cooktop; the WiFi hook-up, the laptop.
"I don't have to run back to the house for lunch, or a cup of tea," Rogers says. "The amenities simply allow me to concentrate on the project at hand. That's what it takes to do this kind of work well."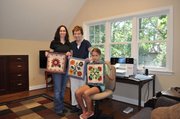 While the full bath and refined finishwork will also allow the attic to double as a guest room when needed, Rogers says the studio is fundamentally designed for quilting. By inserting a specially designed cutting board over the sink, for instance, the L-shaped kitchenette surface converts to a work table. There's even an unseen custom niche to hold the ironing board Rogers uses to flatten fabric.
"I see the studio as an integral part to my life ahead," says Rogers, adding that that her 10-year old granddaughter now wants to learn quilting from her. "This kind of fullfillment isn't just good luck; it's something you have to plan."
On a related note, David Foster observes that the studio is consistent with the kind broader-scale retirement home upgrades his firm has been seeing in the recent past. Seventy-five percent of his current clients are now over 55; as of last year, 44 percent had come back to him for a second project.
"We're seeing a lot more interest in a phased development approach to retrofitting the family house for retirement," Foster says. "To save money on future projects, a remodeling client sometimes asks us to insulate and drywall a part of the house they don't plan to actually use for a while. This is a simple way of thinking ahead that adds value and usually doesn't appreciably increase the existing remodeling budget. There's a kind of generational search for more enduring housing solutions that's now underway, and it's evolving rapidly."
Foster Remodeling Solutions periodically offers workshops on home remodeling topics. Call 703-550-1371 or visit www.fosterremodeling.com for more. John Byrd (byrdmatx@gmail.com) has been writing about home improvement topics for 30 years.
More like this story