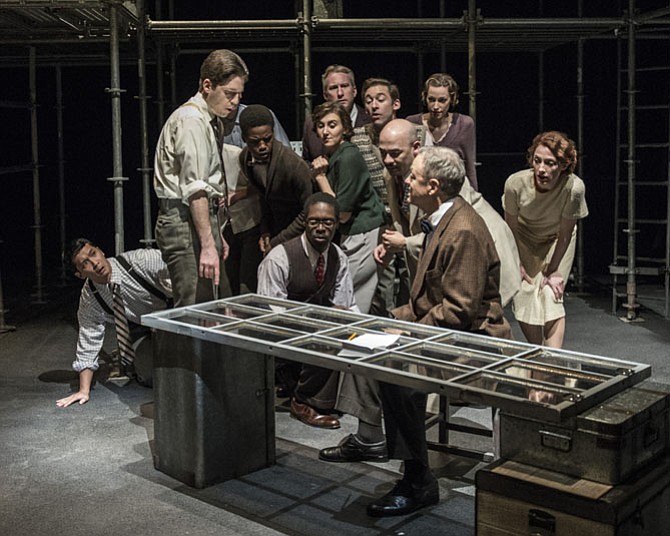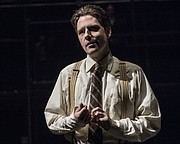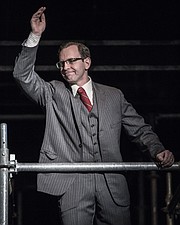 Where and When
1st Stage presents "The Farnsworth Invention" at 1524 Spring Hill Road, McLean. Performances through March 11, 2018. Thursdays at 7:30 p.m.; Fridays, 8 p.m.; Saturdays, 2 and 7 p.m.; and Sundays at 2 p.m. Tickets: Adult general admission $33, seniors $30, students/military $15. Note: 1st Stage recently received 10 Helen Hayes nominations for professional theater excellence. Nominations include two for "Jesus Hopped the 'A' Train," six for "Ma Rainey's Black Bottom," and two for "Trevor."
Full of clever interactions and sharp dialogue, the 1st Stage production of "The Farnsworth Invention" is a lively, fictional drama for a wide audience. It is not only history buffs who can find the production rousing entertainment. Those who have become immersed in current issues surrounding the growth of the internet as a source of entertainment and news can become engrossed too.
"The Farnsworth Invention" was written by Aaron Sorkin ("The West Wing" and "The Social Network"). Under Alex Levy's fluid direction, there is a theatrical tension to what might have been a mere lesson about the past. In a regional premiere, Levy has taken Sorkin's multiple narrators and alternative versions of the truth to become a lively battle between two titans of invention. They are David Sarnoff and Philo Farnsworth.
Sarnoff (portrayed with determined gusto by Jonathan Lee Taylor) is an immigrant to America from the strife of Russia. He is now a self-made New York City media mogul. Farnsworth (played by Sam Ludwig as a driven individual with an "Oh Gosh" temperament) is a self-taught technical genius who grew up in Idaho and Utah. Each of these two could see a future world others could not.
Beyond Ludwig and Taylor, Levy has cast a diverse ensemble of a dozen who perform with zest dozens-upon-dozens of roles. The other characters in "The Farnsworth Invention" surround, support, enable and survive Sarnoff and Farnsworth. Two to mention are the ultimately disappointed wives: Lizette Sarnoff played by Liz Mamana and Pem Farnworth portrayed by Amanda Forstrom. There are also comic scenes that bring well-deserved laughter.
Kathyrn Kawecki's industrial design, two-story, metal scaffolding of a set provides an open, airy structure to the show. With the energy provided by appropriate hassled-appearing movements (Amanda Forstrom) and a streaming ambient sound design by Ethan Balis, there is added visual and aural interest.
There is a lot to take in at "The Farnsworth Invention" as it bends facts about who will gain the final hand to develop commercially viable television available for more than an upper-class toy. There is plenty of lively personal commentary on the 20th century period that Farnsworth and Sarnoff inhabit; including who should control the airwaves.
In its last scene, "The Farnsworth Invention" is more than just an entertaining evening looking backwards. The show becomes a parallel inquiry to the building of the commercially viable internet and social media.