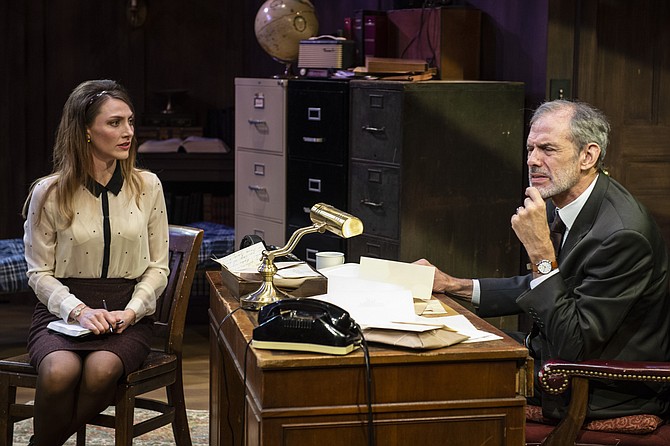 Opening its new season, 1st Stage scores with the poignant, yet subversively comic "Trying." It is a two actor tale about people at vastly different points in their lives. They are trying to find ways to break through their self-erected walls; people who appear to be vastly incompatible.
Under Alex Levy's refined direction, the acting in "Trying" has a polished grace giving the deceptively lean bones of playwright Joanna McClelland Glass's "Trying" script an inviting glow.
"Trying" is set in Washington, D.C. from late fall 1967 through spring 1968. It is based upon the playwright's own real-life memories.
The play focuses on Sarah Schoor, a 25-year old from Saskatoon, Saskatchewan. She is eager to please her new employer. She is the next in a long line of assistants who have found themselves failures in the hands of the verbally abrasive, octogenarian Judge Francis Biddle. The fictional Biddle in "Trying" is based upon the real life Biddle (1886-1968) who served as Franklin Delano Roosevelt's attorney general and was chief judge at the Nuremberg trials.
Scott Sedar portrays Judge Biddle with imposing crankiness with verbal jabs meant to strike fear into his new assistant. After all, he was a "Harvard Man." Over time, Biddle's physical frailness, his inner hurts and overwhelming fears about growing old are revealed. Along with humor and a heart too.
As Sarah Schoor, Amanda Forstrom is a wonder of well-articulated natural reactions to Biddle's pointed pronouncements. Initially she has but two words at her disposal, "Yes, Sir!" in response to Biddle's taunts and commands. Ah, but Schoor finds her meddle. She is no push-over. As the play continues it becomes Biddle's turn to be caught short; calling her "too bold" as they tangle about the mundane, the important and even a mutual distaste for grammatical split infinitives.
Adding to the shine of "Trying" is the music composed by Ethan Balis that softly underscores scene changes. Kathryn Kawecki's gorgeous set is full of detailing for wood paneled office of a once famous man. Add in the multitude of props by Caroline Osterneck for added delightful nooks and crannies. Moyenda Kulemeka's handsome costumes are terrific visual depictions of each character's spirit.
The final curtain for "Trying" may have a bit of a tacked-on feel for some, but the overall journey is a pleasure. Heartwarming is a fitting word to describe "Trying" at 1st Stage. It's a winner.
Where and When
1st Stage presents "Trying" at 1523 Spring Hill Road, Tysons. Performances to Oct. 20, 2019. Thursdays at 7:30 p.m., Fridays at 8 p.m., Saturdays at 2 p.m. & 8 p.m. with Sundays at 2 p.m. Tickets: $42 (adults), $39 for seniors. Students and military tickets $15. Call 703-854-1856 or visit www1stStage.org