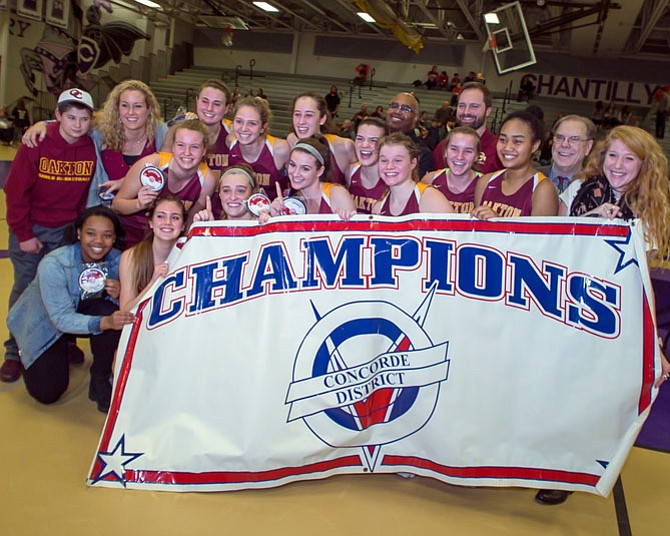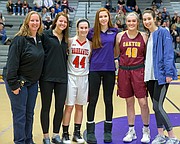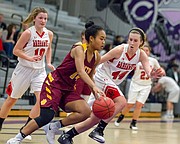 The Oakton High girls basketball team defeated the Madison Warhawks 50-38 at Chantilly High School for the Concorde District Championship on Feb. 16.
Madison established an early 12-8 advantage after the first 8 minutes of play.
Oakton outscored Madison 11-10 in the 2nd quarter to cut into the Madison lead, but Madison would take a 22-19 halftime advantage.
In the 3rd quarter Oakton would nearly triple Madison's production 20-7, to take the lead for good and give the Lady Cougars a 39-29 advantage with a quarter to play.
The 4th quarter saw Oakton outscore the Lady Warhawks,11-9.
Oakton was led by Emma Coleman's 13 points while teammates Hannah Kaloi and Kate Vietmeyer each added 10. Madison was led by Caroline Trotter with 12 points and Diana Miskell's 10.
Both teams advance to the Regional Tournament. Oakton has a first round bye and will play the winner of South Lakes-Battlefield on Feb. 21. Madison will face Yorktown on Feb. 20 in the first round. Marshall will take on Centreville, Patriot will take on Herndon and Stonewall Jackson will take on Westfield. The winner of the Westfield-Stonewall Jackson will play Langley in the second round and the winner of Madison-Yorktown will play at Osbourn Park.