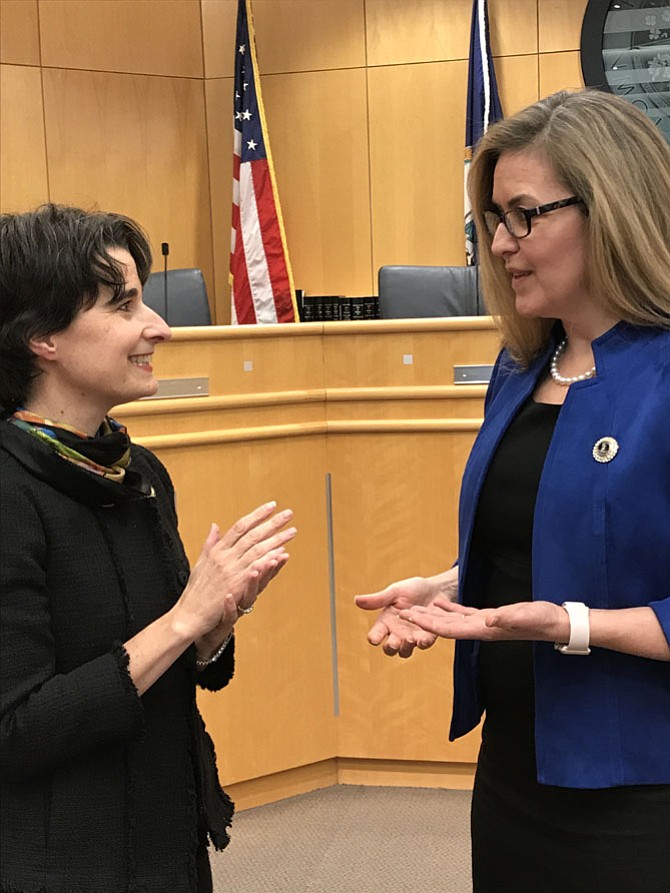 State Sen. Jennifer Wexton (D-33) and Del. Jennifer Boysko (D-86) hosted a Town Hall Meeting in the Herndon Council Chambers Building, 765 Lynn St., Herndon on Saturday, Feb. 17. Boysko and Wexton were there to give a mid-session legislative overview of what has been happening in Richmond and answer questions from constituents.
Mayor of Herndon Lisa C. Merkel introduced Wexton and Boysko to the assembled crowd and thanked the legislators for coming. "You are such great supporters of the town," Merkel said.
Wexton explained that in the Senate they are dealing with the budget and now there is a new governor, who was a physician. "People spoke strongly in 2017 about health care."
Wexton said there had been no gains in gun safety legislation. The Republican-led Senate blocked a bill to increase background checks. She added, "That has been a source of disappointment for me."
Boysko told those assembled that although one-quarter of the membership in the House has changed and there are more women, "Everything is changed, but everything is the same." Boysko detailed bills killed quiet deaths in sub-committees, rolled into other bills and "party shenanigans." She said the Virginia Senate passed legislation aimed at allowing guns in churches. The state House still has to approve the bill though.
Boysko said the gun control agenda took a hit when the bump stock ban bill died in a House subcommittee. The guns in churches bill has been pulled, she said. Boysko urged those at the Town Hall Meeting with gun safety T-shirts on, "You keep on doing what you are doing...the makeup of the General Assembly must change."
Metro, Medicaid, domestic violence, animal testing, the "Me Too" movement, LGBTQ, so many topics updated but in the end when asked what the private citizen could do, Boysko and Wexton echoed each other: Stay informed. Let your voices be heard. Write your legislators. There is now live streaming of the Virginia General Assembly that previously never was broadcast publicly. Check out eyesonrichmond.org. Write to the editor of local/regional papers. "The only way to change things is change," said Boysko.
Reaction from audience members revealed how the town hall meeting affected them.
Willow G. Woycke said, "The Senator Wexton and Delegate Boysko town hall filled in much of the information I was lacking from this legislative session in Richmond around Medicaid expansion, the Dominion bill, the Equal Rights Amendment (ERA), gun control, and my main area of concern, LGBTQ+ equality. I thanked both legislators for their support of LGBTQ+ equality in the General Assembly. I also pointed out that there were no anti-LGBTQ+ bills introduced this session. This lack of attacks on equality is tremendous progress. Wexton's LGBTQ+ equality in housing bill (SB 423) and the other equality bills were killed in a House of Delegates committee hearing on a party-line vote."
Signe Friedrichs said, "Delegate Boysko and Senator Wexton are brilliant, principled, generous and dedicated. We are in good hands."
Herndon Town Councilmember Sheila Olem said, "The Town Hall meeting with our state Senator Wexton and Delegate Boysko reported that the Republican-controlled Virginia House of Delegates Committee voted down a series of gun control measures including a move to expand background checks to all firearm transfers, ration handgun sales to once a month, and ban bump stocks. Also, the Republican-controlled Senate committee killed numerous anti-gun bills that were part of Gov. Ralph Northam's political agenda but moved forward a bump stock ban proposal."