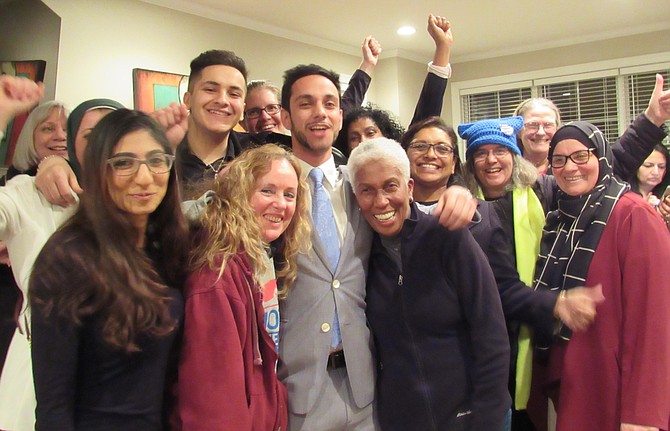 The Virginia House of Delegates 86th District seat remained blue after Ibraheem S. Samirah (D) defeated Republican Gregg Garrett Nelson and Independent Connie Haines Hutchinson in the Special Election held Tuesday, Feb. 19, 2019.

According to Samirah, he is the second Muslim American elected to the Virginia General Assembly and days later, the youngest seated Muslim American delegate, across the U.S.
"I am proud to be able to serve all residents of the 86th district in Richmond. I believe in the power of uplifting everyone through a special focus on our healthcare, environment, education and transportation means. I look forward to consistently delighting all by doing the best I can to pass legislation that reduces the costs of healthcare and greenhouse emissions," said Samirah.
DEL. SAMIRAH won former Delegate Jennifer Boysko's seat in the 86th, vacated in early January after she won the 33rd District seat in the State Senate left by Jennifer Wexton when she became a Congresswoman.
"I absolutely think Samirah represents the future of the party and a segment of the population which has been underrepresented for years," said Cesar del Aguila who hosted the victory party for Delegate-elect Samirah (D-86). Del Aguila is the first Latino American elected to office in the Town of Herndon.
According to the unofficial results released by the Virginia Department of Elections on Feb. 20, the 17 precincts in VA House District 86, 14 in Fairfax County and 3 in Loudoun County, showed Samirah led by a 25.5-percent margin. Samirah (D) received 3,739 votes, 59.9 percent; Nelson (R) received 2,162 votes, 34.40 percent; Hutchinson (I) received 370 votes, 5.89 percent, and Write-in received 13 votes, 0.21 percent. State contest results are unofficial until certified by the State Board of Elections (SBE).
Nominee Nelson (R) ran on a platform that stressed education, transportation and tax reduction. In a campaign survey, nominee Samirah (D) spoke about his platform. "I target healthcare, education, transportation and the environment, all interwoven for the betterment of all."
At Precinct 320 Herndon #2, Herndon Community Center, Rebecca Borton, Dranesville Democrat precinct captain and her husband Tim along with Signe Friedrichs staffed the table for candidate Ibraheem Samirah (D). Jean Werner handled the table for candidate Gregg Nelson (R). "I'd only do this for a great guy," said Werner.
Delegate-elect Samirah left for Richmond the night of the election. Records show he voted on many bills. "Aside from passing a bipartisan budget that puts more money into education expenditures, a law that creates a neutral commission to fix gerrymandering in redistricting, and voting for the ERA, I worked to pass legislation protecting animals against cruelty and voting to increase legal protections for police officers but also limiting a broadening of their authority. I learned a lot in my first few days and even got the opportunity to commemorate Black History Month by a reference to one of the greatest Black Muslim Americans: Muhammad Ali. The 2019 Session of the Virginia House of Delegates adjourned sine die on Sunday, Feb. 24, 2019.
LOOKING FORWARD, Del Samirah said much remained to be done. "Although I worked to pass, and successfully passed, much legislation this year through bipartisanship, much remains to be done in the realm of pushing for justice and equality for all, in particular for women, LGBTQ, religious minorities and people of color. I voted for the Equal Rights Amendment to be passed, but Republicans did not allow its passage. Disenfranchised groups need more protections in the face of increased hate crimes. All these require a Democratic majority in both legislatures."
For voting information by delegate name, session and vote, visit Virginia's Legislative Information System at http://services.dlas.virginia.gov/webservices/frmLISVotIng1.aspx.