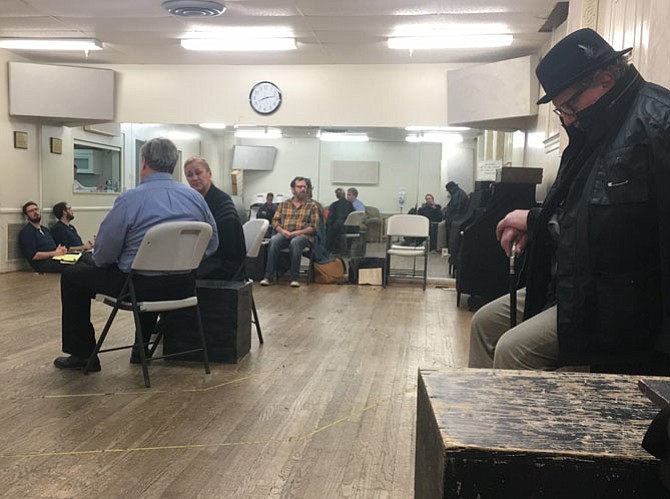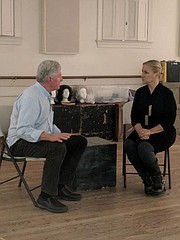 The Little Theatre of Alexandria is presenting "The Audience" from Feb. 24 to March 17. From the writer of the Netflix drama, "The Crown," playwright Peter Morgan takes audiences behind the scenes of Buckingham Palace. For the past 60 years, Queen Elizabeth II has met with each of her 12 prime ministers in private, weekly meetings at Buckingham Palace. Both parties agree to never repeat what is said in these private "audiences." From Churchill to Margaret Thatcher, Morgan imagines what these meetings would be like as they span decades of the Queen's reign.
Co-producer and LTA President Russell Wyland has produced more than 20 shows at LTA and has been active at the theatre for 28 years. "The longer I am around LTA, the more choosy I become about shows and the more I want to work with people who are bringing new energy to our troupe. I won't produce just any show anymore. It has to either connect to my personal interests or it has to have some unique technical challenge. 'The Audience' has both. My education background (BA, MA, and PhD) is in British literature, and 'The Audience' has been high on my list of shows to produce since I first read about it when it was running in London's West End," he said. His co-producer on this show is Rebecca Sheehy.
He added: "Author Peter Morgan didn't really know what went on behind the closed doors of the Queen's Buckingham Palace drawing room when he wrote the play, but anyone interested in English literature or history has wondered about the famous interactions between queen and prime minister. I am no different and as a sort of Anglophile who visits England once or twice a year, the show feels very real to me."

Nicky McDonnell is playing the lead role of Queen Elizabeth. She said what strikes her about Elizabeth is her broad worldly view of humanity and her compassion and understanding of the Commonwealth — not just the UK. "Over the years I have watched and read many pieces on the monarchy. The images of hats and pearls and carriages and all the pomp and circumstance seem to take center stage — also scandal and rumor — as far as defining the monarchy. At the heart of who she is however I believe there is a great and humble public servant. She is deeply spiritual in her faith. She believes wholeheartedly that she has been called to this office by God. I think she feels she serves Him by serving the people and the world with 'honor and decency,'" she said.

Kirk Lambert is playing the role of Prime Minister Gordon Brown, a Scottish-born British Labour Party politician. He said he began his career as a member of Parliament in 1983, served as chancellor of the Exchequer (1997–2007) [like our Department of Treasury], and was prime minister of the United Kingdom (2007–2010) against the backdrop of a worldwide financial crisis. "Like many powerful men and public figures, he had his foibles, weaknesses, and perhaps even demons. He is a good man, honest, and dedicated to serving his constituency and the British Empire even in the face of adversity, but he has baggage," he said.
Robert Heinly is playing two roles as Prime Ministers Winston Churchill and Anthony Eden. "Two decidedly different men. So much is known, documented and remembered about Churchill. Research reveals his often-difficult road, alienating many along the way to his important place in history, his war heroics, his stubborn and often obstinate manner, but most significantly his devout, undying and indefatigable love for his country," he said.
"Eden, who apprenticed for 15 years under Churchill, was a good man most likely better suited for apprenticeship. Thrust into leadership, his tenure shortened by addiction and scandal, he bore a striking image and earned popularity among the Commonwealth, but soon wilted badly under the weight of conflict," he said.
Richard Isaacs is playing two roles as Prime Ministers Tony Blair and David Cameron. "The main challenge I've found in playing both Tony Blair and David Cameron is finding any distinction between the two. I've watched Robert Heinly (as Winston Churchill and Anthony Eden) and Janette Moman (Margaret Thatcher and young Elizabeth's nanny) do this beautifully. They really bring their characters to life ... you would never think it was the same actor playing both roles. But Blair and Cameron are contemporaries, same age, same school, similar demographics, they dress the same, and are possibly fans of each other. There's not much to differentiate the two personality-wise," he said.
Director Ruben Vellekoop said his biggest challenge in directing was staying true to Peter Morgan's characters. "While it is a piece about legends, in this room in Buckingham Palace, they can be just people: people who lived and breathed, but who are still characters in a play. It was never my goal to make this a documentary; instead I wanted to embrace those hints of magic in 'The Audience.' And just like you and me, their lives go up and down, with only history deciding how they are remembered," he said.
Brian Lyons-Burke is playing the role of Prime Minister John Major. "From a bare reading of the script, it would be easy to present John Major as a caricature, and in fact, to play the role a bit 'over the top' for laughs," he said. "Instead, I have been led by my director and my fellow actors to reach for an understanding of the person, of their challenges, and of their role in the management of the British Government in support of the Queen," he said.
Will Cooke is playing the role of Prime Minister Harold Wilson, a Labor Prime Minister who served two terms: 1964-1970 and 1974-1976. "He came from a very humble background in Huddersfield, West Yorkshire, but was gifted with a brilliant mind, a photographic memory, a commitment to serve the least fortunate of society, and an exemplary education, earning two Firsts from Jesus College, Oxford. He was a Civil Servant all his life," he said.
Evie Graham Jewett is playing the role of young Elizabeth. "Young Elizabeth is processing the fact that her uncle has abdicated the throne, making her the heir apparent. She has to move to the palace, trade her schoolwork for courtly training and most markedly, give up a piece of herself. She desperately wants to be a child, but the crown comes with a very adult costume. Her conversations with The Queen, are like those of a little girl with her imaginary friend. She shows spunk, curiosity and a hint of vulnerability," she said.
Paul Donahue is playing the role of the Equerry, the kind of right-hand man to the Queen. "He manages her day-to-day appointments and affairs and therefore is always an open ear to anything that may be on her mind. In this production, he is a kind of timeless narrator painting a picture of the setting and time stamping the scenes with each of her Majesty's prime ministers," he said.
The Little Theatre of Alexandria is presenting "The Audience" from Feb. 24 to March 17. Show times are Wednesdays through Saturdays at 8 p.m.; Sundays at 3 p.m. Tickets are $19 and $22. The venue is located at 600 Wolfe Street, Alexandria. Visit www.thelittletheatre.com or call the box office at 703-683-0496.