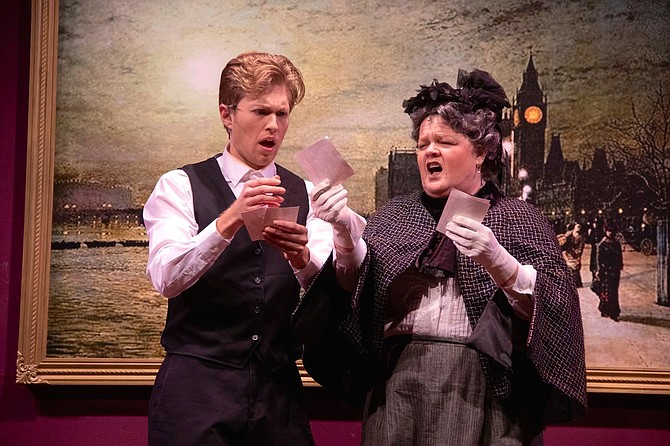 The Little Theatre of Alexandria (LTA) is presenting "A Gentleman's Guide to Love and Murder" from now through Feb. 8, 2020. The story centers on a distant heir to a family fortune who sets out to speed up the line of succession by using a great deal of charm … and a dash of murder. This Tony Award-winning musical comedy is a murderous romp filled with beautiful music, non-stop laughs and show-stopping performances. The show is based on the book and lyrics by Robert L. Freedman with music and lyrics by Steven Lutvak.
Director Frank D. Shutts II said when he first saw this production on Broadway in 2014, he knew this musical was the perfect fit for LTA and its audience. "It's fun, Gilbert-and-Sullivanesque style, sophisticated wit, and who does it and how plot are types of shows our audiences like. 'A Gentleman's Guide to Love and Murder' offer all in one nice package!" said Shutts, who is now in his 30th year of directing for LTA.
He added: "This play is offered up for pure fun and enjoyment. I hope the audience appreciates its almost comedy of manners humor and story-telling: good people behaving badly."
Producer Mary Beth Smith Toomey said: "I am producing 'A Gentleman's Guide to Love and Murder' because I fell in love with the show when I saw it at The Kennedy Center. The quick-paced comedy intrigued me as well as the premise. Also, working again with my fellow WATCH and LTA award-winning team of Frank D. Shutts II, Director; Christopher A. Tomasino, Music Director; and Stefan Sittig, Choreographer, is great! We have an outstanding cast and crew working on this complex show. I want the audience to laugh, enjoy the show and be entertained."
Katie Weigl plays the role of Sibella, one of the love interests for Monty (played by the charming Drew Goins). "Sibella is egocentric, superficial and vain, yet so blissfully unaware of her own faults that you can't bring yourself to hate her. Her sense of entitlement and infallibility is ultimately her downfall. She's laughable, yet relatable on some level. I think that's true of all the characters in this show," she said.
She added: "I think speaking with a British accent has been more of a challenge than any of us anticipated! You'd be surprised how many ways you can pronounce the letter 'A'. We have a dialect coach who has been boundlessly patient with us."
Allison Meyer plays the role of Woman 1, which consists of many characters. "I play the Tour Guide, the Pub Owner's Wife, Mrs. Pebworth, Phoebe's Maid, a Newsboy, Mrs. Pebworth, Selina Chard, and many more," she said.
As far as audience takeaways, she added: "I hope audiences have a great time! This musical is witty, has beautiful music, and it really transports audiences to an unbelievable world. I hope they walk away with a smile and a tune in their heads!"
Jordan Peyer is playing Man 1, which consists of multiple roles including small-town farmer Tom Copley and mortician Dr. Pettibone. He said: "'Gentleman's Guide' has a large cast of characters played by a comparatively small number of actors, so the major challenge for me has been stepping into the shoes of each character both convincingly and in rapid succession."
Chuck Dluhy is playing nine different roles which are all members of the D'Ysquith family – an aristocratic clan in Edwardian England. "They include men, women, young and old, such as an elderly inebriated clergyman, a muscular health nut, a closeted country squire, a benefactress 'of a certain age,' and a flamboyantly bad actress. This is not a spoiler, since the plot is revealed early in the play that all my characters will be murdered!" he said.
Kristen Jepperson is playing the role of Miss Shingle. "She is actually the one who brings to Monty the possibility that he could be Earl of Highhurst, if only there weren't eight other pesky relatives standing in his way. And there is a nice little twist at the end that I won't give away here, guess you'll have to come see it for yourself!"
Audrey Baker is in the ensemble and plays several characters throughout the show (mourner, maid, philanthropist, bridesmaid, and more!) "My largest role is Miss Evangeline Barley, a Florodora chorus girl who has a secret fling with Asquith D'Ysquith. She is a ditsy, giggly character who runs off to a remote location until her and Asquith D'Ysquith drown while ice skating on a frozen lake (that Monty cuts a hole in, killing them). The scene is quite fun – from the flirting, giggling, skating, to their dramatic death," she said.
She added: "In addition to having a good laugh and humming along to some catchy live theater/music, I hope the audience sees the wit and irony of the show. 'GGLAM' makes fun of the upper class in a way that makes you fall in love with a murderer – it takes the white male privilege to a whole new level."
LTA is presenting "A Gentleman's Guide to Love and Murder" from now through Feb. 8, 2020. Show times are Wednesdays through Saturdays at 8 p.m.; Sundays at 3 p.m. Tickets are $29-$34. The venue is located at 600 Wolfe Street, Alexandria, VA. Visit the website: www.thelittletheatre.com.