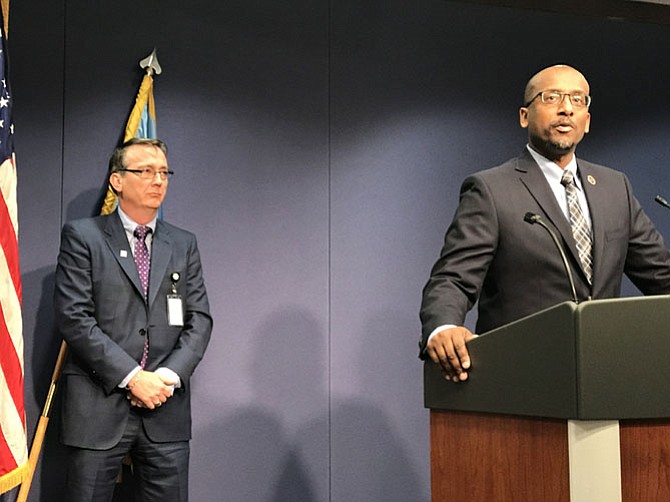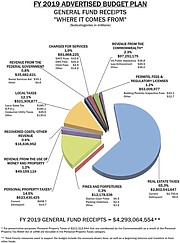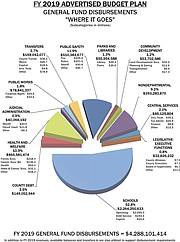 "While the tax bills continue to grow in Fairfax, wages have not, especially for our growing population of seniors and our dwindling population of millennials." — Springfield District Supervisor Pat Herrity
"This will be an intense process as we work with the community." — Chairman Sharon Bulova
"Every budget has two sides; you have the receiving end and the paying end, and if you're on the receiving end of county services people will be very happy." — Braddock District Supervisor John Cook
"This is a budget that invests in people and I think that's the single most important thing we can do this year to invest in our school employees and our county employees." — Lee District Supervisor Jeff McKay
"We're going to have to change how we do business here in Fairfax County." — County Executive Bryan Hill
Raising the tax rate by 2.5 cents would result in $268 property tax increase on average.
Fairfax County Town Hall Budget Meetings
Monday, March 5, 7:30 p.m., McLean Budget Meeting, McLean High School Cafeteria, 1633 Davidson Road, McLean
Wednesday, March 7, 7 p.m., Sully District Town Hall, Rocky Run Middle School Little Theater, 4400 Stringfellow Road, Chantilly
Thursday, March 8, 7 p.m., Hunter Mill Community Summit, South Lakes High School Lecture Hall, 11400 South Lakes Drive, Reston
Monday, March 12, 7:30 p.m., Great Falls Budget Meeting, Great Falls Library Meeting Room, 9830 Georgetown Pike, Great Falls
Wednesday, March 14, 7 p.m., Providence Community Budget Meeting, Providence Community Center, First Floor Multipurpose Room, 3001 Vaden Drive, Fairfax
Wednesday, March 14, 7:30pm, Braddock District Council Annual Budget Meeting, Location To Be Determined
Thursday, March 15, 7 p.m., Mason District Budget Town Meeting, Mason District Governmental Center, Main Community Room, 6507 Columbia Pike, Annandale
Monday, March 19, 7 p.m., Mount Vernon District Budget Town Hall, Location to be determined
Wednesday, March 21, 7 p.m., Lee District Budget Town Hall Meeting, Franconia Governmental Center Community Room, 6121 Franconia Road, Alexandria
Thursday, March 22, 7 p.m., Springfield District Budget Town Hall Meeting, Springfield Governmental Center, Community Room, 6140 Rolling Road, Springfield
April 10-12, Board of Supervisors Public Hearings on FY 2019 Budget and FY 2019-2023 Capital Improvement Plan. See http://www.fairfaxc…">www.fairfaxcounty.g… to sign up.
The Board of Supervisors has until March 6 to determine if it will advertise the 2.5-cents real estate tax increase proposed by new County Executive Bryan Hill last Tuesday, Feb. 20.
"When we advertise the tax rate that will become the ceiling for what the tax rate can be. It can be lower, it can be the same, but it can not be higher than what we advertise on March 6," said Chairman Sharon Bulova, following Hill's presentation at the Board of Supervisors meeting.
The board will officially adopt the FY2019 budget on May 1, after a series of community meetings and public hearings on the $4.29-billion budget. More than 40 community meetings have already been scheduled in the next month throughout the county.
"This will be an intense process as we work with the community," said Bulova.
Bulova called Hill's proposed tax increase "a significant amount."
Dranesville Supervisor John Foust said, "the size of the increase, obviously a concern."
"Every budget has two sides; you have the receiving end and the paying end, and if you're on the receiving end of county services people will be very happy," said Braddock Supervisor John Cook. "When you walk up to your office, Mr. Hill, at the end of the day, people in the hallways will be very happy. Every county priority is fully funded, schools are fully funded, and that's not a bad thing, that sounds good, but we have to remember the other side."
The other side starts with what Bulova said would be an average tax increase of $268 to every homeowner in Fairfax County.
Springfield Supervisor Pat Herrity calculates that increase to be five percent, adding to a total the last five years of more than 26 percent, Herrity said.
"While the tax bills continue to grow in Fairfax, wages have not, especially for our growing population of seniors and our dwindling population of millennials," said Herrity.
And various parts of the county will be hit harder than others. Cook suggested that some in his neighborhood each month "will pay $450 to $700-plus more with this budget."

"While there are many things in this budget that I strongly advocated for and fully support, and it's nice to see, we also have to go back to the people who pay. … In this budget, it's hard to explain to the people paying the bill where the restraint was," Cook said.
Lee District Supervisor Jeff McKay heads the budget committee for the board.
"When you're stuck with residential taxes as your main source of revenue and you can't control property values, you can't control the fact that the highest percentages are sometimes in the communities of this county whose residents can least afford that increase," he said.
HILL TOOK OVER as county executive on Jan. 2; former county executive Ed Long retired Sept. 15, 2017.
"Excellent job in a very short period of time," said Foust, after Hill's presentation.
"Fifty-three days, sir," said Hill, with humor.
Bulova called Hill's budget "outstanding."
"It essentially hits on all the notes that our board is concerned about, increasing funding for schools, fully funding compensation for our employees and also addressing Diversion First and increases in what we need to fund CSB [County Services Board] and police, etcetera, etcetera, etcetera," said Bulova.
"This is a budget that invests in people and I think that's the single most important thing we can do this year, to invest in our school employees and our county employees," said McKay.
Hunter Mill Supervisor Cathy Hudgins said she welcomed Hill's support "embracing initiatives" that will allow all families to enjoy what the county has to offer.
"Fairfax County is a really great place but unfortunately there are a lot of folks who are not in a great place in order to enjoy all of that," she said.
For example, "School readiness needs to be looked at with as broad a brush as you can find," she said.
URGENCY AND WARNING were themes of Hill's presentation, however.
This year's budget proposal addresses almost all priorities and initiatives, but the future will need to be different, Hill said.
"We're going to have to change how we do business here in Fairfax County," Hill said, predicting persistent budget shortfalls into the future. "It's 2020 where we really need to tie our shoes a little tighter," being "more creative and nimble."
He recommends returning promptly to an analysis of county lines of business, looking for efficiencies and savings in each department.
"You hit the nail on the head," said Foust. "We have to find a way to make county government more efficient if we are going to continue providing the awesome services that we provide at fair and reasonable costs."
Hill predicts restrained revenue growth for the foreseeable future, with uncertainties in federal spending, the impact of tax reform on property values, state budget contributions and meeting the needs of Metro.
One continuing issue is that Fairfax County sends far more tax money to state coffers than returns, getting just 23 cents back for every dollar, Hill said.
"No matter how many times I say it, people in our community don't understand it," said McKay. "They think we get significant help from the state, they think the schools get significant help from the state, but really the schools are getting significant help from the homeowners in Fairfax County."
THE $4.29-BILLION budget would transfer $2.26 billion to the school system, 52 percent of the total.
Hill and new School Superintendent Scott Brabrand pledged to work collaboratively to reach joint priorities and efficiencies.
The two new executives stood side by side when answering questions about the proposed budget.
"The quality of the school system is directly tied with the quality of life in the county," said Brabrand, who began July 10, 2017. His contract runs through June 30, 2021.
"I think it is the first time in recent years that the county executive and the superintendent of schools have stood side by side to share our budgets and take questions. I think this change is emblematic of a new approach to meeting the needs of the residents of Fairfax County," he said. Hill's proposed budget would fully fund the FCPS request.
Hill's annual salary is $250,000, Brabrand's is $290,000.
MORE THAN 18.9 million square feet of office space remains vacant in the county.
"Maybe it's starting to think about different uses for that instead of the normal," said Hill. "Leaving it vacant is not a good thing for our tax base. The more people we have in our vacant office space … reduces the burden on our county residents. So we have to be more creative, we have to be more nimble, and we have to be cutting edge."
Hill and numerous supervisors discussed the importance of economic development,
"Increasing commercial is a really good story that can not be overlooked," said Foust. "A 3.8 percent increase in the non-residential assessment is really good news."
Mount Vernon Supervisor Dan Storck suggested overtime expenditure is an area to save money.
And Herrity made his annual appeal for the county to address pension benefits.
"Every year we put it off, it gets harder," Herrity said.
"I am extremely disappointed that we have reached yet another budget cycle and we have failed to address our pension issues," he said. "As I talk with constituents throughout the county, they are in disbelief that we continue to offer new employees a pension benefit more generous than surrounding jurisdictions on top of a county taxpayer paid social security benefit as early as age 55. Pension costs alone add 30 cents to every payroll dollar and compete for funding with critically needed county services and employee and teacher raises."