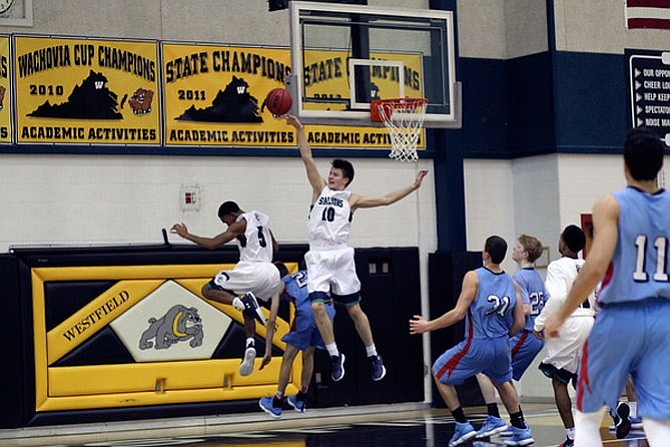 Centreville — Eight teams laced it up for the annual Bulldog Bash Tournament hosted by Westfield High School in Chantilly from Dec. 27-29.
First round results were Stone Bridge 70, Herndon 52, South County 58, Green Run 49, Marshall 46, Robinson 28, Westfield 85, and Liberty 51.
In the second round, South County defeated Stone Bridge 56-52, and Marshall defeated Westfield 54-52.
For the Bulldog Bash Final, Marshall defeated South County 71-59 behind Tournament MVP Daniel Deavers 29 points. Joseph Lampman added 19 and Demetri Gamble added 14. Marshall jumped out to an early 1st quarter lead 11-10. In the 2nd quarter, Marshall again outscored South County 19-15. In the 3rd quarter, Marshall outscored South County 16-12 and in the 4th, 25-22. South County was led by Seth Dunn's 14 points. Eight players for South County scored 4 or more points for the game.
In the consolation game, Westfield defeated Stone Bridge 71-61. Westfield was led by Jordan Hairston with 17 points, and DJ Gregory's 11. Eleven Bulldogs scored at least two points. Westfield went 26 of 34 from the charity stripe. Stone Bridge scored 33 of its 61 points from behind the arch, making 11, 3-pointers.
Five players from the eight teams were selected as the all-tournament team: Daniel Deaver #31, Marshall; Ryan Robinson #10, Marshall; William Wilson # 25, South County; Quentin Millora-Brown #42, South County; and D.J. Gregory # 10, Westfield.