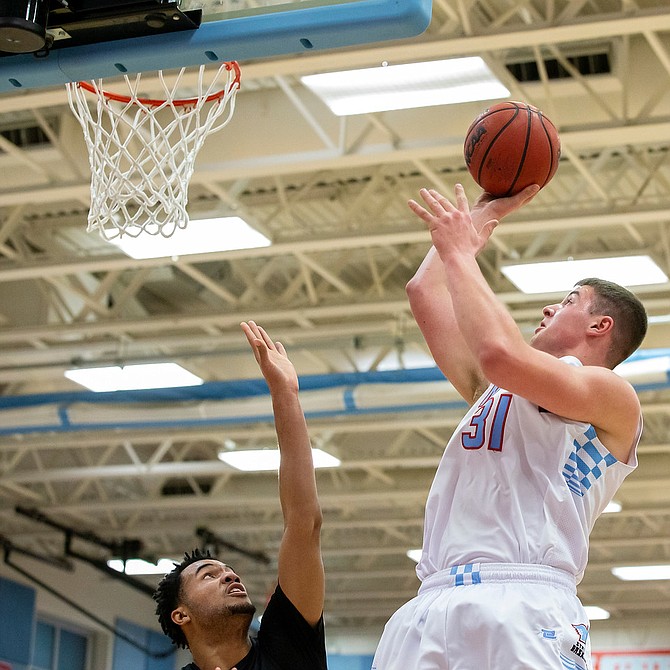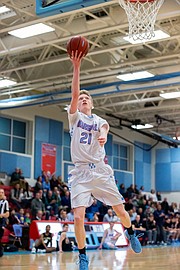 The Westfield Bulldogs took on the Marshall Statesmen in a second round regional playoff game in Falls Church on Feb. 22. Westfield advanced to the game having defeated Washington- Lee in the first round 58-55. Marshall advanced, defeating Osbourn Park 74-42.
Marshall started off with 11 first quarter points, led by Ryan Schlaffer's 9 points, while Westfield managed only 4 points, all of which came from Trent Reimonenq.
In the 2nd quarter, Marshall balanced their scoring with Daniel Deaver scoring 8, Ryan Schlaffer 6 and Alex Pigeon scoring 3. Westfield's Marshall Reed scored 9 points in the quarter with teammate Tahj Summey adding the other 4 Westfield points. Halfway through the game neither team had been successful on a three pointer, yet Marshall led by double digits, 32-17 at the halfway point.
In the 3rd quarter Marshall increased their lead margin another two points, with all but four of the Marshall 15 points coming from Daniel Deaver. Deaver would tally 11 in the quarter. Westfield's Sam Johnson scored 6 points in the quarter while teammate Marshall Reed added 4, and Gavin Kiley added a basket.
With just eight minutes to play and trailing 47-29 in regulation Westfield still had fight in them and outscored the Statesmen 17-16, but were not able to stage a comeback. Marshall closed out the game with a 64-45 victory. Westfield's Marshall Reed scored 8 points in the quarter, including two 3 pointers to give him a game high 25 points, and Trent Reimonenq added another three pointer. Taylor Morin and Robert Black each added a basket. Marshall's Daniel Deaver scored 6 points in the quarter for a team high of 23 points. Jack Taylor added 5 points and ended the game with 9 points. Ryan Schlaffer scored two points and ended up with 17 for the game.
Marshall (22-6) moves on to the third round where they will face Patriot High School, who defeated McLean High School 65-56. Westfield ended their season at 4-22.
For the game Marshall converted on 12 of their 15 free throws. Westfield sank the game's only 3 pointers, all in the 4th quarter.