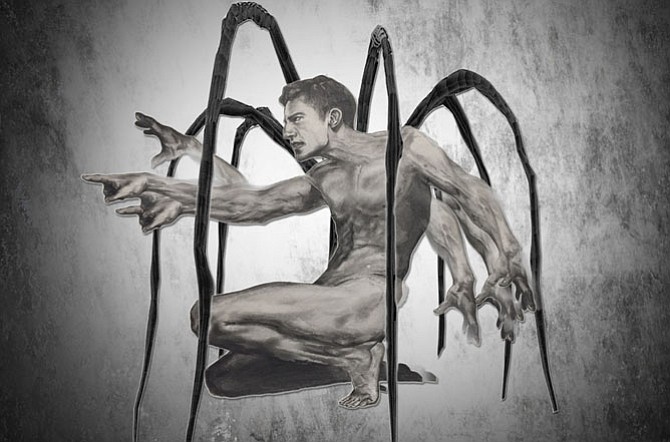 Synetic Theater is presenting "The Trial" from Jan. 17 through Feb. 18. A play with dialogue taken from Franz Kafka's German 1914-15 novel, "The Trial" is about a 30-year-old man who suddenly and without cause or warning is arrested while at work. Two unidentified agents from an unknown agency arrest him for an unspecified crime and he is prosecuted by a remote authority. Synetic Theater explores the struggles of "K" and his encounters with the invisible Law and the untouchable Court. It is recommended for ages 17-plus due to mature content.
Director Paata Tsikurishvili said the story is as relevant now as it was 100 years ago when it was first published. "I was interested in the fact that the novel is really not about a trial at all, at least not in the normal sense; it's not a courtroom drama, but a very dark and absurdist journey into the mind of Kafka himself," he said. "It's his most autobiographical novel and we wanted to bring his creative process to the forefront — the literal translation of the novel's original German title, after all, is 'the process;' a journey. So we wanted to dive into his imagination and show everything through his eyes."
He said, having done a production of Kafka's "Metamorphosis," what always stuck in his mind was the giant insect which the protagonist in that story morphed into. "We're creating something of a 'Kafka World' this time around, and the idea of that world being a kind of insect hive — ruthless, structured, totally unfeeling — for me, this was the perfect metaphor for the mindless bureaucracy Josef K(afka) finds himself in," he said.
He said he was looking for a challenge with this play. "To do something very dark and cerebral, but something that's also very much in keeping with our aesthetic — something laced with a lot of dark humor, but in the end is very moving and emotionally charged. I wanted to stretch our muscles and do with language what we do with physicality and visuals — to experiment with certain kinds of 'verbal acrobatics,' while maintaining that unique visual quality that audiences have come to expect from us," he said.
Shun-Nan Chu plays the role of Josef K, who is the everyman of the story. "Either he can be viewed as Kafka himself or as an iteration of any number of artists who were persecuted and censored," he said. "The storyline is not uncommon, but to take the story to such an abstract and universal level is new, at least, to me."
He continued: "Josef K is a man who is thrown into a system that operates on rules and procedures that he does not know and that no one can explain to him. He wakes up in what you or I might view as a practical joke, due to the absurdity of the circumstances. He does not take it seriously until it is too late and somehow he has managed to incriminate himself further. In searching for answers from family, friends and court officials, K gains insight into the law and how much control he has or has lost in his destiny," he said.
Tori Bertocci plays the role of Anna, a friend of Josef K who brings a bit of human connection into his life and the play as a whole. "She takes the time to listen to him, enjoys his company, and worries about his future. She believes in him," she said.
She continued: "Anna represents the type of friend I think is important for us all to have. She reminds me that even in times of chaos, when all hope seems lost, we must stand our ground and practice what we preach."
She said she didn't find Kafka's view on women to be a positive one and the original story was clearly dominated by the male point of view. "For our adaptation, I wanted to make Anna more than a tool for the main character. My hope is that I have made my Anna someone the audience can relate to and understand," she said.
Lee Liebeskind is playing the role of Karl, who is K's uncle trying to help him through his troubles. "He is also a fly, a bit buzzy and annoying, but needed in the world," he said.
He said the challenge was splitting focus on the piece. "I am both an actor and assistant director for the first time on this. So it was challenging balancing the overarching view of assisting Paata's vision with my own personal character work. It has been fun and challenging and I have learned a ton so far," he said.
Synetic Theater is presenting "The Trial" from Jan. 17 through Feb. 18. Show times are Wednesdays through Saturdays at 8 p.m.; Sundays at 2 p.m. Tickets are $20-$60. The venue is located at 1800 South Bell St., Arlington. Visit www.synetictheater.org.