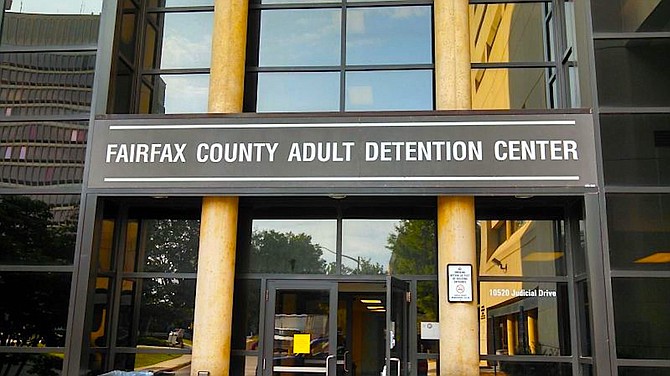 For one Alexandria woman who was booked into the Fairfax County jail a few years ago, the stress of the criminal justice system wasn't just about prosecution and detention. It was also about shame. Deputies confiscated her underwear because it wasn't white, the only color inmates are allowed to wear at the Fairfax jail. So she started worrying about what would happen when she started menstruating.
"They give you these pads after they have not given you any underwear, so there's really no place to hold the pads," said the woman, who requested anonymity to keep her job. "If you start a menstrual cycle while you are in there with no underwear, they don't give you anything to protect yourself."
While she was behind bars in 2015, inmates were limited to two pads a day. She says they were the cheapest kind available, which means they were very thin and more than two were often needed. She said she heard some of the other inmates begging for more pads, but the deputies would not provide them.
"So I've had to sit on one pad for half of the day and then use the other pad to sleep through the night so that when I wake up in the morning I could get two more pads," she said. "It definitely makes you feel less than a person, like I'm not even worth a 50-cent pad."
HER EXPERIENCE in the Fairfax County jail is common say leaders of a nonprofit group known as Bringing Resources to Aid Women's Shelters — known by the acronym BRAWS. That's why they are pushing members of the General Assembly to pass a number of laws to provide "menstrual equity," a growing movement in state capitals across the country.
"It's not right to charge them, especially charging prisoners who really don't have much access to money at all," said Del. Kaye Kory (D-38), who has a bill that would require jails and prisons to provide feminine hygiene products on demand. "So it's wrong. And we shouldn't do it."
Del. Jennifer Boysko (D-86) has two bills that work toward menstrual equity. One would add feminine hygiene products to the list of products that are exempted from sales tax during the annual back-to-school tax holiday. The other bill would eliminate the sales tax for these products altogether.
"A woman doesn't have a choice whether or not she wants to buy menstrual products," said Boysko. "And because she's taxed on it that's unfair and it's discrimination and so it's a parity issue and a fairness issue."
"It's an area that's probably been overlooked just because it's not a subject that people talk about often in public." — State Sen. Chap Petersen (D-34)
THE ISSUE HAS been gaining steam for several years, although lawmakers are still trying to get their bills out of committee and onto the floor. Del. Mark Keam (D-35) has been working on this issue since 2016, and he says every year the effort gains more supporters. He's currently working on a bill that will require public schools to provide feminine hygiene products in restrooms.
"Boys may snicker and joke about it, but the reality is that these are serious psychological as well as physical problems that girls have to deal with," said Keam. "I've talked to many young women who said this has happened to them and it's so embarrassing, and they can't study or focus on what's happening in the classroom."
Keam acknowledges that his bill would be an unfunded mandate for school divisions across Virginia. That's one of the reasons state Sen. Chap Petersen (D-34) is taking a different approach — a budget amendment that would provide funding for groups like BRAWS to distribute feminine hygiene products to prisons and homeless shelters.
"It's an area that's probably been overlooked just because it's not a subject that people talk about often in public," said Petersen. "Really what we are talking about is more matching funds for the community, and we are basically coming late to the party."