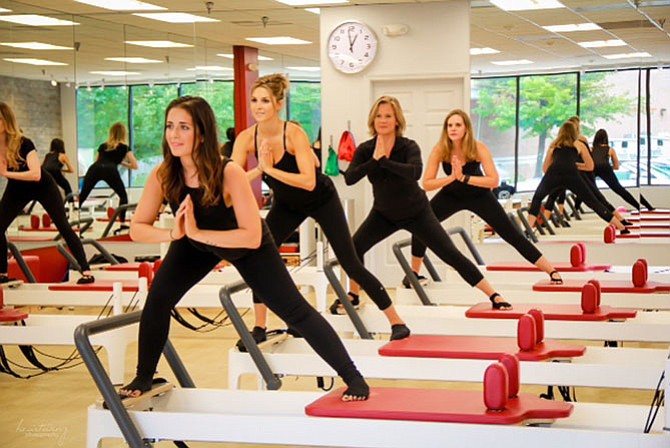 Open House
Visit the newest RTR Pilates on Saturday, Feb. 3, from 9 a.m.-1 p.m. to meet instructors, have a cup of coffee and take a demo classes. Demo classes are complementary and will be offered at 9:15, 10:15, 11:15 and 12:15. Pre-register at http://www.RTRpil...">www.RTRpilates.com.
It's time to figure out exactly how to tackle those New Year's resolutions for better fitness, toning and weight loss. What's the best inspiration and support for meeting your goals? Head to the Pilates reformer classes at RTR Pilates, recently opened in Great Falls Center.
RTR Pilates owner Reina Offutt said, "We recently launched our sixth RTR Pilates studio because we had many clients from Great Falls coming to our McLean location. We are opening with several classes each day and will be adding more classes at the most requested times. We have also staffed this location with tenured instructors and limited the reformers to only eight per class. Since we have new clients and a new studio, I want to make the experience personal and fun for everyone."
Offutt opened her first Pilates studio in 2006 and has built the business to include studios in Chevy Chase, Potomac, Palisades in D.C., McLean, Denver, Colo. — and now in Great Falls. RTR Pilates now has 600 active clients and 22 instructors. Offutt has worked diligently to ensure a thriving business for both her employees and clients. She said, "the classes afford an opportunity for a place where 'fun meets fitness.'"
Offutt has not always been in the fitness business. She holds a degree in Electrical Engineering from Tulane University and an MBA from George Washington University and is also the busy mother of two. She attended her first Pilates class while recuperating from a running injury, then decided to build her own business. The rest is history.
Offutt says, "Our classes are not your typical Pilates classes. RTR Pilates provides a reformer Pilates which systematically takes the client through a choreographed class routine designed to lengthen and tone the mind and body. All classes use the Balanced Body Allegro II Reformer. Clients are challenged, sore – and quickly become addicted." Classes are offered in Level 1, Level 2 and Level 3 Pilates with two types of classes – Reformer Pilates and Circuit Classes.
The Great Falls location is offering a special rate for 30 days of unlimited classes of $99. This rate can be secured by going to the website www.RTR pilates.com, signing up for classes and putting in the code GREAT99. The studio is located at 9849 Georgetown Pike, Great Falls.