Ten years ago, Reina Offut Pratt launched the first Potomac Pilates studio in a tiny space next to Big Wheel Bikes in the back of the Potomac Village Shopping Center. She was the first in the area to feature Pilates on a reformer.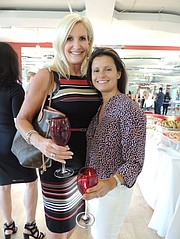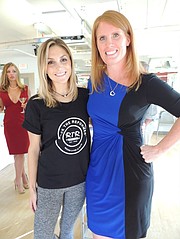 "There have been many changes in the fitness industry since the inception of Potomac Pilates in 2006," said Pratt. "Back then, boutique fitness studios were not even a 'thing.' Our initial hurdle was educating people where we fit in the market and why they could possibly need a group fitness class outside of a gym environment. Fast-forward 10 years and everyone now attends a boutique fitness studio for one workout type or another."
As her classes filled, Pratt slowly grew to become a mainstream exercise and meeting place in Potomac Village. She continued to add classes and attract new clients until she ran out of space in her tiny abode. "After five successful years of growth and refining the business model, Potomac Pilates moved into the Potomac Tennis Club in January of 2011," she said. "Next, Potomac Pilates expanded in 2012 to Northwest D.C. with its first satellite location in the Palisades. Potomac Pilates opened in its third location in the spring of 2013 in Chevy Chase, Md. In the summer of 2015, Potomac Pilates rebranded to become Rock The Reformer Pilates or more simply RTR Pilates. The purpose of the rebrand was to prepare to expand nationally. In the fall of 2015, RTR Pilates opened two new studios, one in McLean, Va. and one in Highlands Ranch, Colo."
RTR Pilates returned to the Potomac Village leaving the Potomac Tennis Club in March of 2016. They took over the second floor of the Potomac Promenade shopping center. This new headquarters houses a 1700-square-foot studio, dedicated retail shop, six administrative offices and an instructor development lab.
Over the years, Pratt realized that simplification was the way to go. The business exclusively teaches Pilates on the Reformer and she has chosen not to extend in more directions. By sticking to her company specialty, they are able to be the best in the marketplace for Reformer Pilates. Their classes are leveled to allow for different complexities and difficulties depending on the client's experience.
RTR Pilates has grown to 39 instructors, six staff members, five locations and classes taught all day long, seven days a week. Classes include every level of student and are limited to 12 students. Most of their clients are from 35-55 years old and are 85 percent female and 15 percent male. However, male client attendance is on the rise due in part to professional athletes touting the benefits of Pilates for range of motion, flexibility and core strength.
Dr. Monica Parham credits RTR Pilates classes with saving her career and giving her a greater sense of well-being: "I have been coming for classes for six years. Because of my dental career, I was hunching over and had severe neck and back pain. I could hardly hold myself upright. Now I am pain-free and have recommended Potomac Pilates to numerous friends and patients because it has changed my life for the better. I would like everyone I know to be able to feel as great and healthy as I do."
Instructors Lindsey Crane and Micheon Cahill both enjoy teaching their fitness classes. Cahill said, "The clients are definitely the best part. They are so nice and caring; we are like a family. This is a wonderful place for overall mental and physical health."
To learn more about RTR Pilates or to sign up for classes, go to www.RTRpilates.com, call 301-983-3745 or email info@RTRpilates.com.