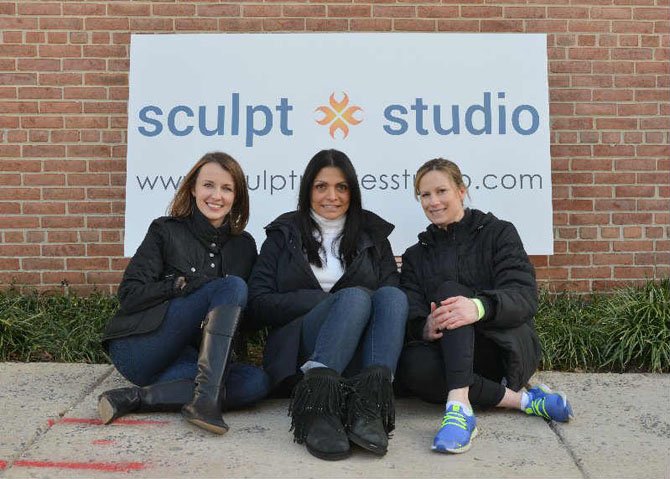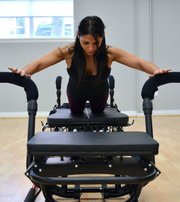 Potomac — Still working on that New Year's Resolution to get fit and lose weight — but not making much progress? Sculpt Pilates Studio, featuring a new exercise program, recently opened Jan. 25 in Bethesda — with new machines and body sculpting exercises.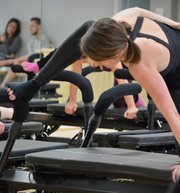 This studio is the only one in the Bethesda/Potomac/Chevy Chase area to offer Megaformer classes. Sculpt Studio owners, Danielle Tate of Potomac and Mary Farber and Ginine Beyer of Bethesda are excited to have the opportunity to introduce the Sculpt Pilates Studio – and to help "engage clients on a positive pathway to sculpt their bodies." Their mantra is: "Real Bodies + Evolved Workouts = Mega Results."
Tate and Beyer had long been students of locally well-known Pilates instructor, Mary Farber. After Beyer saw the Megaformer and tried it out while traveling, she spoke with Farber and Tate about creating a Pilates studio that would utilize the new high-tech machines.
"There's such a difference," Beyer said. "The back of the Megaformer provides a whole different set of exercises. You work your abs, your core and every single muscle in your body. You burn 500 – 600 calories in every workout. It sculpts your body like no other workout I've ever done."
According to Tate, "Megaformers are a hybrid of the Pilates reformer, but built with additional functionality that provides a wider range of movements and thus a more inclusive and intense workout. I consider this the ultimate ROI (return on investment) workout. You are challenged in ways that you have never experienced before and you will definitely see changes to your posture, core and flexibility."
Farber loves teaching her classes on the new Megaformers: "The workout method is different. Repetitions are done at a slower pace and are zero impact. It's tough but it's great for everyone. Athletes find the workout makes them much stronger and it's also wonderful for rehabilitation after an injury."
Hilary Keeley of Potomac was immediately thrilled with her classes at Sculpt — as well as the instruction. "I have tried two classes with co-owner Mary Farber. Wow! Both were amazing but targeted different areas of my body while giving me a great total body workout," she said. "The Megaformer is not your typical Pilates equipment and Mary is not your typical instructor. As a Megaformer newbie I was a bit nervous ... Mary immediately put me at ease, explaining how to use the machines and correcting my form (or lack thereof) throughout the class in a nonjudgmental way. While my first class left me sore for days and pushed me harder than I expected, it left me begging for more ... So I signed up online for another class."
Juliana Abraham of Bethesda felt very comfortable trying this new exercise program: "I really enjoyed the class. There was definitely an atmosphere of support and inclusivity. Even though it was my first time using a Megaformer, I didn't feel singled out. All of the other participants in the class were so supportive and friendly. It really felt like we were 'in this together.' The studio itself is very warm and inviting. I smiled at all of the thoughtful little touches of hospitality, from the mints and hair ties in the bathroom to the coat hooks and storage cubes in the studio."
A variety of classes are offered four or more times daily on both weekdays and weekends. Each is limited to 10 students per class. The "Megaformer Class for New Clients or Clients with Injuries" is an introductory, slower-paced class which increases strength and flexibility while engaging all parts of the body. Farber's 60 Minute "Mega Megaformer Workout" is a "no holds barred" advanced class that challenges the body with a fast-paced routine that increases muscle burn and leaves one in a sweat-drenched finish. The "Megaformer Pilates Workout for New and Expectant Mothers" offers prenatal and postnatal classes to keep one strong during and after pregnancy — and also to help get back to original pre-baby weight and strength. The studio is planning to add teen classes and is looking forward to offering special group events, such a birthday parties, corporate team-building events and other types of group activities.
Client Eva Kanupke is exhilarated: "As a Blackbelt, I love a challenging workout, but I don't love the pain I'm left with after high impact exercise. That's why Sculpt Studio's Megaformers are ideal. In 50 minutes I achieved a full-body workout that pushed every muscle to its limit, while remaining easy on my joints. Most of all it was fun. I can't wait to go back - I'm hooked."
Sculpt Pilates Studio is located at 4900 Auburn Ave., Bethesda. To sign up for a class, call 240- 600-0730 or go online: www.sculptpilatesstudio.com and click on "Get Started."