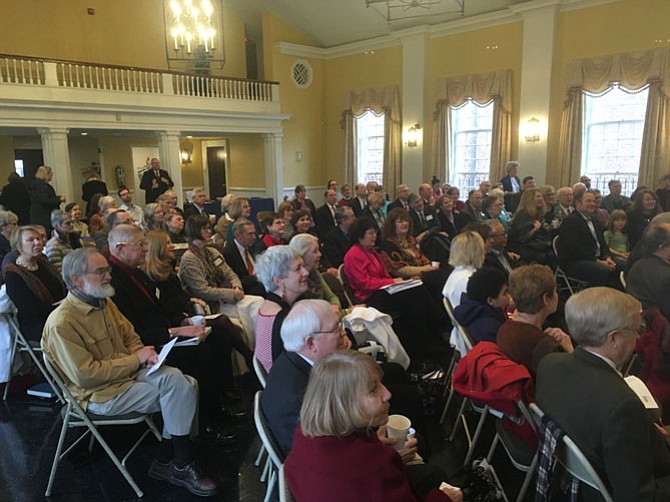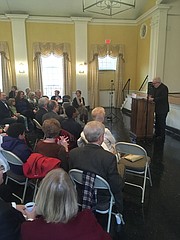 Jim Wallis, the founder of Sojourners, an activist Christian organization, challenged a crowd at Christ Church on Sunday, Jan. 21, to stand concretely against America's "original sin" of racism.
"Jim's talk … was part of a larger work of the parish, a program we've created called 'Practicing Truth' where we are spending some time exploring issues of race, faith, and community," said the Rev. Noelle York-Simmons, Christ Church's pastor.
Citizens are "at a time of deep transition from one kind of America to another kind of America," said Wallis, a white evangelical. "The most important political fact in our nation, … it's underneath everything else, [is] that by 2030 [or] 2040, we will no longer be a white majority nation. For the first time, we'll be a majority of minorities."
Christian churches, taken collectively, are uniquely suited to "navigate" this transition and "lead by example," he said. "For all of our failings and faults and limitations, I don't see anyone who is better poised to do that than us … This isn't just an issue that we take on, or not, [out of] a box of issues. This is about our vocation as the body of Christ in this country."
This will require introspection and behavior changes in churches. Family to family bonding, the hearing of each other's stories, needs to occur more frequently "across racial lines," he said. "We [white Christians] have no idea what their [black Christians'] lives are like." The vast majority of Wallis' audience on Sunday was white. For example, most white parents have never heard about "the talk" that black parents give their children about how to interact safely with police. "The simple acknowledgement of the difference in the experience of black and brown and white people in this country is critical to any kind of going forward." He advised having conversations and collaborating with congregations with different demographic profiles.
Moreover, he advised seeking change at the level of "structural, policy decisions."
"What do you stand for?" he asked. "A lot of black church leaders that I've talked to … are not concerned about what's in Donald Trump's heart. They're concerned about policies. And they want people to stand with them on policies. … So what are policies we can join with … in the neighborhood, in the community, in Washington?"
"White Christians … privatize [racism]; it's about individuals." But it has more to do with "policies of white preference," said Wallis. "Our congregational demography is shaped by our racial geography. And we didn't choose that; it's decisions by banks and housing…"
Of his own family, Wallis said: "My government made my family middle class" by providing his dad, a WWII vet, an education through the GI Bill and an FHA loan for their first house — benefits that he said were denied to black vets.
More information about Christ Church's "Practicing Truth" program can be found at www.historicchristchurch.org/learn/practicing-truth. More information about Jim Wallis and the Sojourners movement can be found at www.sojo.net.