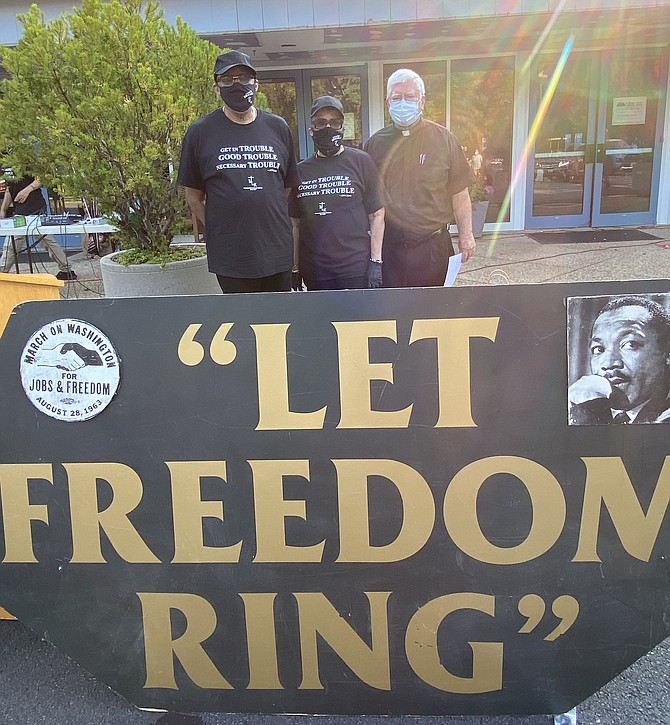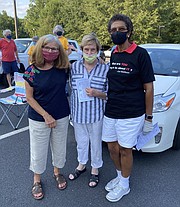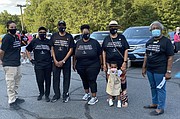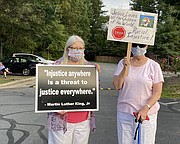 With armed security guards patrolling the grounds, faith leaders of nine partnering churches in the Reston-Herndon area joined organizers from Martin Luther King Jr. Christian Church Reston for their Faith and Justice Car Rally. The Aug. 27 program took place in the parking lot of St. Thomas à Becket Catholic Church on Wiehle Avenue in Reston. Organizers requested that attendees remain in or near their vehicles, tune their radios to station 90.3, promote safe distances and wear masks.
The hour-long event centered on the words of the late civil rights leader, Georgia Congressman John R. Lewis (D), who represented Atlanta. "You must find a way to get in trouble, good trouble, necessary trouble," said Lewis in a recording of a 2014 commencement speech he gave at Emory University.
THE PROGRAM brought together people from across the region. "We belong here," said attendee Liz Eckl of Reston. "I want to stand up for what I believe," said Carol Even of Oak Hill. "Black lives matter. I matter," said Valerie Smith of Centreville.
Highlights of the many remarks by faith leaders included those by Reverend Clyde Casey, Associate Pastor of Martin Luther King, Jr. Christian Church Reston who gave the invocation. He prayed, "We have come out this evening to stir up America...so the church will not be complicit against injustice by being silent...As John Lewis said, we may not have chosen the time, but the time has chosen us."
Speaker Reverend Dr. Debra W. Haffner, Pastor of Unitarian Universalist Church in Reston, said, "We must use our breath...to speak out to those lives and rights of all Black people, of all people of color to affirm, with every ounce of our being that Black lives matter. That immigrant lives matter. That LGBTQ peoples' lives matter. We must acknowledge our own racism. We must learn from it, and we must commit to being anti-racist as individuals, and yes, as the Reston community...May we make a hurricane of justice."
Speaker Rabbi Michael Holzman, Northern Virginia Hebrew Congregation, said this was a moment where, how people speak, and talk needed to change. "We are living in a moment now where people are afraid of truth... We see videos like the ones that, unfortunately, wrongly, unjustly keep coming...The truth we need to be seeing is also the truth that is in the background. The truth of people who cannot pay their rent...(and) our own state government that is trying to get over their own politics...We've got to be on fire. The fellowship this moment calls for and the old rules will no longer apply."
According to Keynote Speaker Deacon Amanda Andere, who is the CEO of Funders Together to End Homelessness, coming together and fellowship with one another were the community boldly proclaiming it had hope. "We believe that all lives matter, when Black lives matter," she said.
SPEAKER Reverend Phil Carl, Pastor of Christ The Servant Lutheran Church, said that it was customary in the Lutheran religion to confess sins before worshiping. "I don't feel as if I can encourage you in any way...without confessing my white privilege...It is so invisible to white people. I know I am immersed in it, but I always don't see it...That I don't have to be afraid of the police is a privilege that I am not actively conscious of. In my religion, we confess sins known and unknown...I went to a college full of white Scandinavia students. That college is in Kenosha, Wisconsin, where this past week, an unarmed black father, Jacob Blake, was shot in the back seven times in front of his three children...These things do not happen to the crowd I run with. I am willing to work with you...addressing systemic racism."