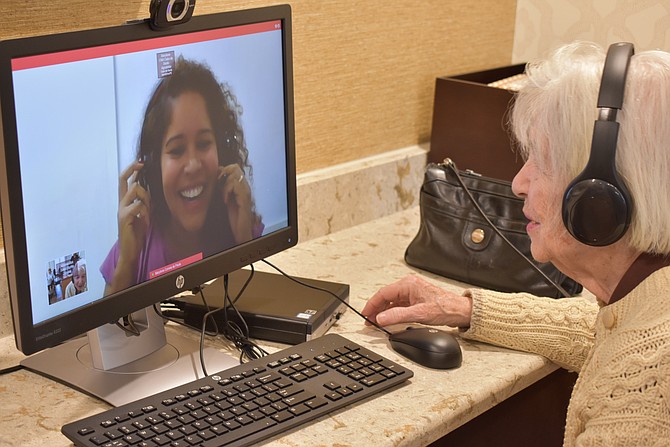 Burke — In addition to bingo, watching television or an occasional Elvis impersonator's visit, the residents of the Sunrise Senior Living in Burke regularly reach across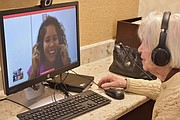 the equator to teach English to teens in Brazil, and have fun doing it.
On Tuesday afternoon, June 19, Betty Vannoy was deep in conversation with a student, discussing movies, the weather and life around Sunrise with a teen on the computer in a program called "Speaking Exchange."
"I live in a senior place and I have three daughters, grandchildren and great grandchildren," she said to the teen on the other end named "Vinicius."
Speaking Exchange is a nationwide program started in 2014.
The program was brought to the residents of Sunrise by Julianna Drolhe, the activities director who is also from Brazil. She started the program in April and has a handful of residents regularly take part in the activity where they talk with the teens from CNA, a school system in Brazil using Skype and the internet.
The teens are trying to polish their English skills and the residents can learn about other cultures and gain computer skills as well. "I thought it would be interesting to talk with the kids," Drolhe said.
Selma Thackery, a resident from New York, has participated for the last few weeks, and likes "the satisfaction of helping an enthusiastic student," she said. The conversations are only 10 minutes long, with one minute to end the conversation, and they can't get the same student again, since there are 600 CNA schools from Brazil that participate. "I'd be happier if it went a bit longer," she said.
Speaking Exchange is part of the "Live With Purpose," program they have at Sunrise, where there is "an opportunity for our residents to engage, enjoy, express, learn and grow," said the company literature.
"All the activities we do are part of the program," Drolhe said. Sunrise at Silas Burke House just opened six months ago, so they are picking up community service efforts, fundraisers and working with the Alzheimer's Association. "As a new community, we're developing all our programs," said Sunrise Executive Director Deena Lane.
Thackery likes the teaching and conversations because "it's non-competitive and non-political," she said.