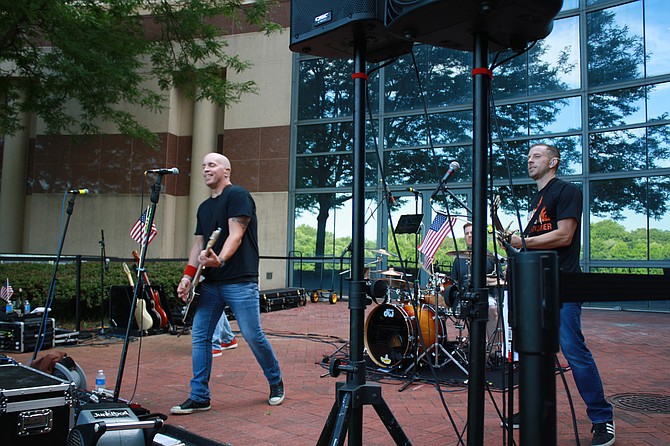 Fairfax County — It's hard to turn down junk food, and when the rock band "JunkFood," showed up to kick off the summer concert series, called the Evenings on the Ellipse,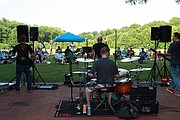 families, county employees and wine connoisseurs munched on some junk food and sipped wine on the lawn at the Fairfax County Government Center.
JunkFood is a cover band out of Manassas and kicked the show off with a few familiar tunes to set the mood, including "Kryptonite," by 3 Doors Down, "Melt with You," by Modern English, and "What I Got," by Sublime.
Relaxed was the theme, and when the band started with a lengthy sound check, no one seemed to mind. The singer, Bart Harris, set the tone. "Rock bands don't start on time," he said. Harris was joined by Dan Anderson on lead guitar and vocals, Bobby Curtis on bass, and Mark Spivey on drums.
Fairfax County Board of Supervisors Chairman Sharon Bulova was there to get the show started.
"It creates a wonderful sense of community," she said.
The bands are chosen by the Fairfax County Park Authority and throughout the series at the government center, there is a variety of musical genres.
Sue Floyd and Bob Ward shared a blanket and bottle of wine from The Winery at Bull Run, the wine supplier for the event. "Very good," Floyd said,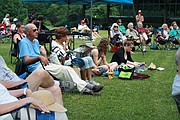 referring to the wine and/or band. It was hard to tell.
Jessica Smithberger came down from her office in the center and shared a blanket on the lawn with Hayden Nier of Centreville. She works in the Fairfax County solid waste management office. "It's really easy and nice to come down for a concert," she said.
Evenings on the Ellipse is one of many concert series happening throughout Fairfax County this summer, and many are sponsored by district supervisors all over the county. Every Thursday at the government center, in a spot called the "backyard," there are bands through the end of August. To get to the backyard, go in the front door of the government center, down the staircase, and out on the lawn in the back is where the shows are held. This spot is in the shade and close to a door, just in case late afternoon thunderstorms arrive. "If it gets too awfully hot or rains, we move inside," Bulova said.
More Information
WHAT:
Evenings on the Ellipse Summer Concerts
WHEN:
Every Thursday, July 5 – Aug. 30, 2018
TIME:
5:30 – 7 p.m.
WHERE:
Fairfax County Government Center Backyard
12000 Government Center Pkwy, Fairfax
PERFORMANCES:
July 12: The Beat Hotel (Mardi Gras Swamp Funk)
July 19: Memphis Gold (Blues)
July 26: Tartan Terrors (Celtic)
Aug. 2: The Gibson Brothers (Bluegrass)
Aug. 9: Robin and Linda Williams (Folk)
Aug. 16: Doc Scantlin and his Imperial Palms Orchestra (Big Band)
Aug. 23: Russikye Musikanti (Russian Folk Music)
Aug. 30: The United States Air Force 'Celtic Aire' (Celtic)