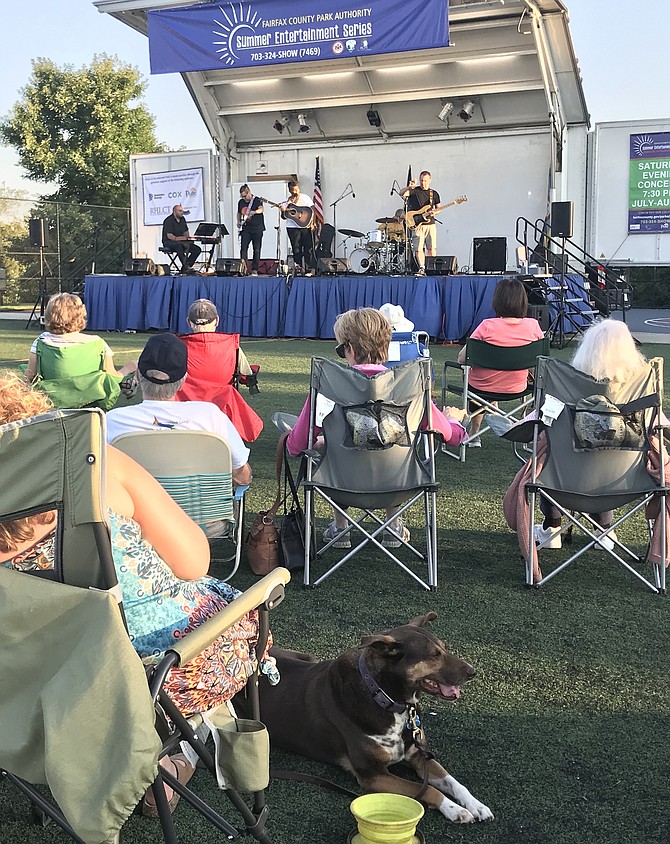 The Music at Arrowbrook Park Concert Series kicked off on July 13 after weather canceled the July 6 performance with Roomful of Blues. However, even with great weather, shade and a cool breeze off the nearby pond, a challenge existed.
"The challenge is attracting crowds. They don't know we're here," said Jeffery Fairfield, Executive Director of The Ruth and Hal Launders Charitable Trust, as the first concert of the season was underway at Arrowbrook Centre Park. Located one block off Centreville Road in Herndon and two blocks from the Dulles Toll Road at 2351 Field Point Road, Herndon, the location made an easy drive.
The Ruth and Hal Launders Charitable Trust presented the concert sponsored by Arrowbrook Centre, LLC and Arrowbrook Management Corporation through a unique partnership with the Fairfax County Park Authority (FCPA) according to Fairfield.
Part of the FCPA Summer Entertainment Series, headliners for the July 6- Aug. 31, 2019 season for Music at Arrowbrook Park, included acclaimed musicians from New York to the West Coast and back to Herndon according to Sousan Frankeberger, Performing Arts Production Manager, Fairfax County Park Authority. Frankeberger described this year's nine Saturday evening concerts as an eclectic blend of music from British Invasion Rock on July 27 to Klezmer Folk and Jazz on July 10 to Pop/Rock Cover on July 31.
Saturday evening July 13 featured singer-songwriter, prolific lyricist and composer, Crys Matthews, who played at the Sundance Film Festival, The Birchmere and The Hamilton. After performing at Lincoln Center on Nov. 30, Mathews was named grand-prize winner. According to her website, Mathews is known for her thoughtful songs, many tackling social justice themes. "I'm looking forward to playing in Herndon," said Mathews, who hails from southeastern North Carolina but now calls the Town of Herndon home.

Veteran concertgoer Denise Marques of Herndon attended the Summer Entertainment Series at Arrowbrook Centre last year. "We couldn't wait for the concerts to start again. It's great to be able to come out to this," Marques said.
Rosangel Marques of Brazil who accompanied Denise Marques said that in Brazil they didn't have music like this. "It's marvelous to listen to," she said.
Town of Herndon residents, Karen and Michael Falkner, usually make the rounds of summer concerts, according to Karen. "We've been coming here for the last couple of years," she said.
"This year, we celebrate the facility's eight seasons of public service; the concert series started in 2012 with three dates. This year we've gone to nine dates with 90-minute sets. Last year was our first season with wine sales through a new policy with the Park. On alternate weeks, we will feature the two wineries in Fairfax County, Bull Run out of Centreville and Paradise out of Clifton. New this year on Aug. 10, is beer sales with Caboose Brewery," said Fairfield.


2019 Free Concert Series
Arrowbrook Centre Park
2351 Field Point Road, Herndon
7:30 - 9 p.m.


JULY
20 - Brother Joscephus and the Love Revival Revolution (New Orleans Party Music)
27 - The British Invasion Years (60s, British Invasion Rock)
AUGUST
3 - Craig Gildner Big Band (Big band)
10 - Lox and Vodka (Klezmer Folk, Jazz)
17 - Flow Trib (Funk Rock, Psychedelic Blues)
24 - Soul Crackers (Motown, Soul)
31 - JunkFood (Pop/Rock Cover Band)