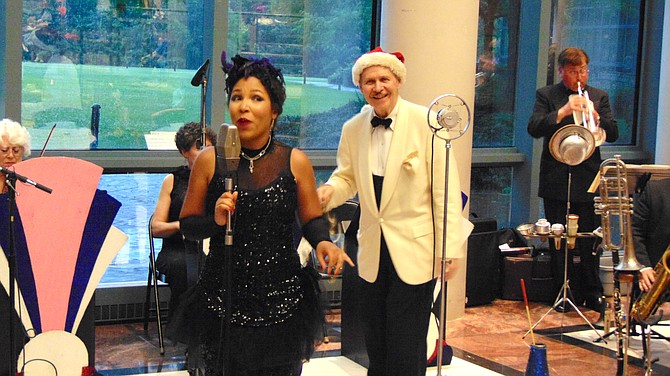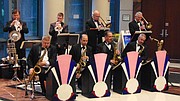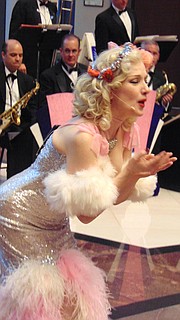 Doc Scantlin and his Imperial Palms Orchestra helped kick off the Evenings on the Ellipse Summer Concerts and Wine Tastings at the Fairfax County Government Center on Thursday, July 11, 2019. Throughout the summer, the free series of concerts sponsored by the Fairfax County Park Authority are held Thursdays from 5:30-7 p.m., and will feature a wide variety of musical acts – from country to swing, bluegrass to Klezmer, and folk to vintage rock 'n roll. Fairfax County's two Wineries – Paradise Springs and Bull Run – will be providing tastings and sales of their premium reds and whites.
According to Sharon Bulova, Chairman of the Board of Supervisors: "Doc Scantlin puts on a fantastic show. We moved them inside the Government Center because of the rain and had an audience that filled the Forum. People were up on their feet and dancing. Doc Scantlin is my favorite group!"
She added: "Evenings on the Ellipse is a great way for nearby residents and county employees to relax and unwind after work in Wolf Trap-esque style. With great music, a beautiful venue and complimentary wine tastings, I am proud to have the Fairfax County Government Center play host to such a special summer experience."
Sousan Frankeberger, Performing Director for the Fairfax County Park Authority, added: "The Park Authority started the Summer Concert Series about 25 years ago, and we started with one small venue and expanded it. Now we offer concert series weekly from Wednesday evenings through Sunday evenings at different park venues throughout the county."
She said there are 160 concerts throughout the county, which includes children's performances on Saturday mornings and evening concerts, plus one series that's international – music and dance from different parts of the world. The series is sponsored through contributions from donors; no taxpayer money goes towards paying performance fees and the series are held in all Supervisory districts.
Concerts are held Thursday evenings, now through Aug. 29, from 5:30-7 p.m. at the Fairfax County Government Center, 12000 Government Center Pkwy., Fairfax. If it rains, the concert will be moved inside to the Fairfax County Government Center Forum. Visit the Website: https://www.fairfaxcounty.gov/parks/performances.
2019 Performances
July 18: Maybe April (Country)
July 25: Daryl Davis (Swing)
Aug. 1: Machaya (Klezmer)
Aug. 8: The David Kitchen Band (Pop/Rock)
Aug. 15: Mariachi Los Amigos with special guest group, Common Ground (Mariachi plus Jazz)
Aug. 22: The Capital Focus Jazz Band (Youth Jazz Band)
Aug. 29: The Gibson Brothers (Bluegrass)