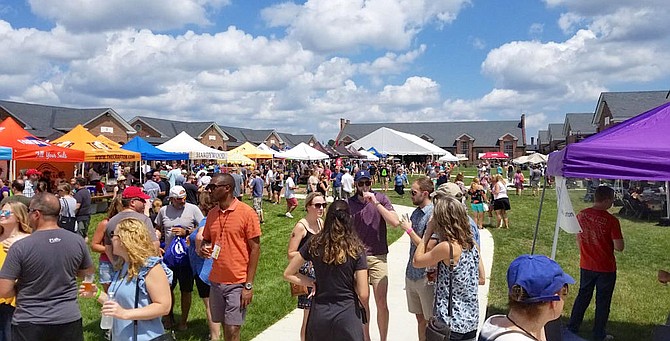 One of the Workhouse's signature events returns. It is the enormously popular Brewfest, first appearing at the Workhouse in 2016.
For the 2019 Brewfest there will be more than two dozen Virginia craft breweries, artisan distilleries, and Virginia wineries along with live performances by some of the region's most popular bands, distinctive food trucks, with access to a dozen art galleries and a myriad of artist studios.
"Brewfest is a key event for us that showcases the beautiful renovation and preservation of the historic Workhouse," said Kevin Greenlief, Chairman, Workhouse Arts Foundation Board of Director. "The day combines music, craft beer, and food on the lovely campus quad with the opportunity to stroll through the workshops of our many talented artists.
"The Workhouse is a tremendous County asset in the southern part of Fairfax, and Brewfest is a truly fun way to experience this unique artistic setting," added Greenlief.
"We're excited to expand Brewfest, with the debut of our new 'Create + Sip!' experience. This will provide guests the opportunity to work under the direction of Workhouse artists and try their hand at creating art," said Ava Spece, President and CEO, Workhouse Arts Foundation.
Spece said that during Brewfest, there will be several one-hour "Create + Sip!" sessions with artist-instructors available throughout the afternoon. These Create + Sips will provide an art experience that introduces guests to what is available year-round at the Workhouse; such as classes and camps and the work of more than 80 artists who create and exhibit at the Workhouse.
"There's no better way to let our guests know of our mission of supporting visual arts and arts education than providing Brewfest guests the chance to roll up their sleeves and tap into their inner artist," added Spece.
Brewfest production partners include Visit Fairfax and the Fairfax Office of Public Private Partnerships. The Workhouse is also partnering with Fairfax Alliance for Better Bicycling in support of those who want to bike to the Workhouse event.
"The Workhouse Brewfest showcases the best in local breweries and wineries, but also in music, art, and history in its location at one of Fairfax County tourism's hidden gems – the Workhouse Arts Center. Visitors and residents can experience the art and history that lie within these walls while enjoying a day of craft beer and wine, or artisan spirits," said Barry Biggar, President & CEO of Visit Fairfax.
Where and When
Workhouse Arts Center presents 4th Annual Workhouse Brewfest at 9518 Workhouse Way, Lorton on Saturday, Sept. 14 from 1 to 8 p.m. (early entry for Hopstar VIP guests). For tickets and detailed information go to www.workhousebrewfest.org or call 703-584-2900. Notes: There are Designated Driver tickets available. Children are permitted to attend the event, programming is intended for an adult audience. Children or those under the age of 21 who wish to attend will need to have a Designated Driver (non-drinker) ticket, and will have grounds access, unlimited root beer and bottled water, and be able to enjoy on-site musical performances. Children are required to be accompanied by an adult or guardian. No pets are allowed per Workhouse policy. Service animals are welcome in the studios, galleries, museum and theater.