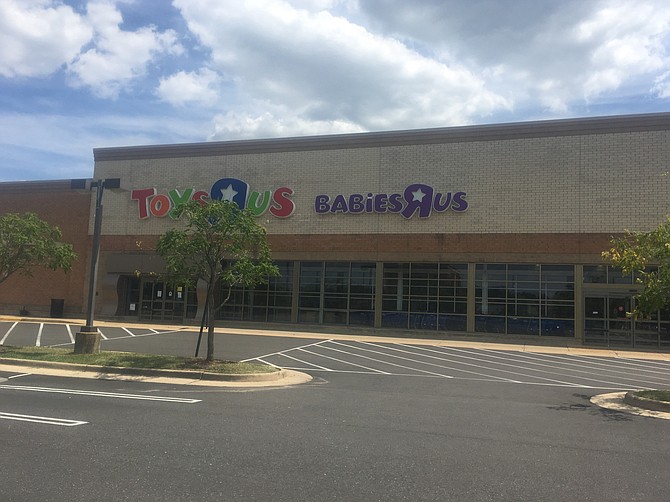 Springfield — The message on the door was "Remember to be a Toys R Us Kid," but the quiet storefront, the darkened inside and the lonely parking lot in Kingstowne painted a solemn picture that many retail organizations across the country have faced as they closed their doors for the last time. In the final days of March 2018, more than 700 Toys R Us stores across the nation did the same.
Kingstowne resident Shirley Leoncini didn't believe the news when she first heard about the retail toy giant. "It was my go-to for Christmas," she said, and scrambled for ideas on what to take its place on Kingstowne Boulevard. A book store? Sporting goods? FAO Schwarz, another toy giant in the industry? She thought about the shopping choices in the area with the shopping centers along Kingstowne Boulevard or at nearby Springfield Town Centre. "Everything is covered here," she said.
Marcie Connolly, a professional in the retail leasing industry and also a Kingstowne resident, had the same outlook. "I would have another furniture store," although a Lay Z Boy is right next door. She thought about it again. "Retail is not doing well these days," Connolly said.
Founder Charles Lazarus opened Toys R Us in 1948 and it once had 64,000 employees, according to information on their website. Financial reasons were cited on the list of Frequently Asked Questions about the closing and it stated that liquidation sales began on March 23, 2018. The website closed shortly after that so all sales stopped. "The Company's www.toysrus.com and www.babiesrus.com web stores were shut down for customer purchases effective March 29, 2018," it stated. The other two Toys R Us stores in the area were located at Baileys Crossroads and Chantilly.
Supervisor Jeff McKay (D-Lee) briefly communicated with the owners of the property, Halle Corporation, to discuss this issue. He brought up the potential for repurposing the building and Halle is looking at options internally.
"Clearly they need to figure out what to do with that building," McKay said, "they were exploring a residential option."
McKay knows that Lee District does have a few locations that fall into the big box category. On Loisdale Road and Frontier Drive, the roads on either side of the Springfield Town Center, there are a few big box buildings that are occupied by Home Depot, Best Buy, Modell's Sporting Goods, Office Depot, and Barnes and Noble, and away from the town center in Springfield Plaza, there are a few more.
"I'm trying to get ahead of this," he said.
Nancy-jo Manney of the Greater Springfield Chamber of Commerce is familiar with the troubles of retail and the big box stores. "Big box property owners are going to have to re-imagine their space," she said, via email.