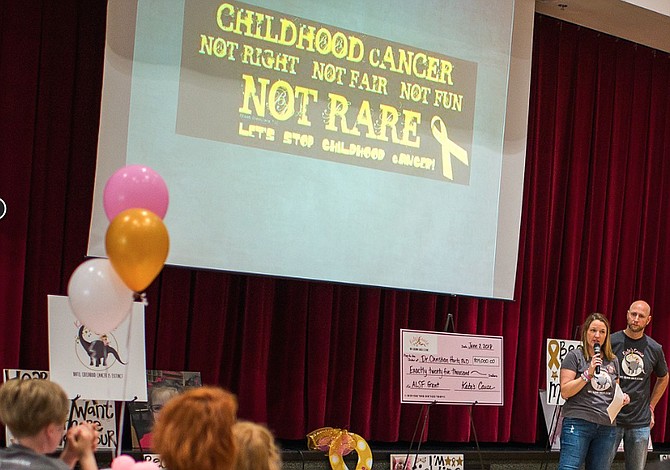 Two and a half years ago, four-year-old Kate Rhoades of Herndon lost her battle with acute lymphoblastic leukemia. Her parents, Lindsey and Mike Rhoades, promised their daughter her death would not be in vain. At that time all they knew was there was a need to fund a pediatric cancer researcher with bright and promising prospects for better and less toxic treatments for children with cancer, especially for those with cancer like Kate's.
At the Second Annual Kate's Cause PanKate Breakfast Annual Birthday Party held June 2, 2018, at the Herndon United Methodist Church, Mike and Lindsay Rhoades announced to the crowd present, that on behalf of the Board of Kate's Cause they were presenting a check for $25,000 to partner with the Alex's Lemonade Stand Foundation in co-funding a grant to Dr. Christian Hurtz, Ph.D. from the University of Pennsylvania.
The contribution will help support the study of Cellular Pathways to Enhance Treatment in Ph-like acute lymphoblastic leukemia...the most common cancer in children and the one Kate had.
The following is part of the letter Kate's mom wrote and read to those gathered at the Kate's Cause PanKate Breakfast:

"This past Saturday, almost one year to the day of our official launch, we celebrated the first birthday of Kate's Cause, our foundation built from love and heartache. We gathered with 254 of our closest friends, family and new faces alike and we celebrated our birthday. We celebrated Kate. BECAUSE OF YOU, IN ONE YEAR, WE WERE ABLE TO FULFILL OUR PROMISE TO KATE... I want to thank you for coming out today and giving us a chance to share what Kate's Cause is all about.
Two and half years ago, we made a promise to our little girl. I held her hand as we promised that we would tell her story. We promised that we would do anything in our power to make noise and raise awareness. That her departure from this life would never have been in vain...
One year ago (almost to the day) I stood right here in this very spot and made a promise to YOU, to Kate's Cause supporters and donors. We officially launched her cause and our plan for what was known at the time as 'Katie's Grant' to fund a pediatric cancer researcher with bright and promising prospects that met our greatest need of better and less toxic treatments for our kids...
It is with the greatest excitement that I announce, on behalf of the Board of Kate's Cause, our partnership with Alex's Lemonade Stand Foundation to co-fund a grant to Dr. Christian Hurtz, Ph.D. from the University of Pennsylvania. Our $25,000 contribution to the grant on studying Cellular Pathways to Enhance Treatment in Ph-like acute lymphoblastic leukemia...The most common cancer in children (Kate had this cancer.)
From here…. we keep on going. We keep on keeping on. We keep doing what we're doing with your help and we keep trying to change the lives of children in Kate's name. For them…because of her. Happy birthday, my girl. I love you. I miss you. Best friends forever. I promise. - Lindsay Rhoades, Kate's mom."
To learn more about Kate's Cause, especially upcoming events, visit katescause.com and Prayers for Kate - Home | Facebookhttps://www.facebook.com/prayersforKate.13/