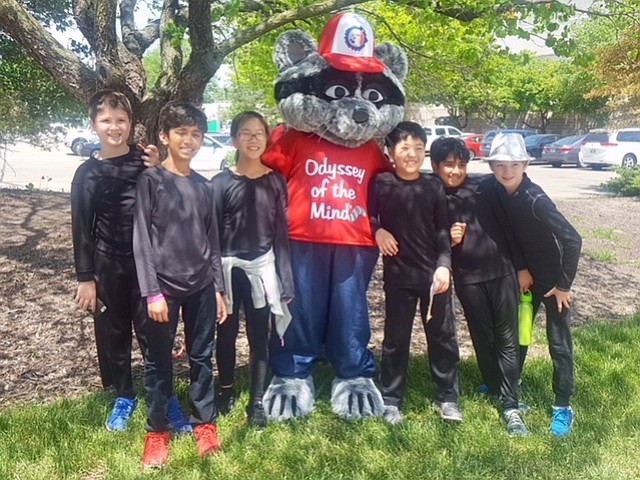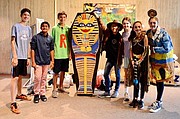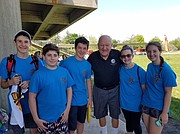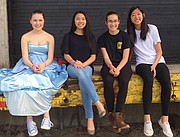 Four local schools recently competed at the World Finals competition for Odyssey of the Mind (OM), a "brainy sport" that combines a high levels of various creative skills, including solutions-based script writing, a live 8 minute performance, art creation and engineering. The World Finals competition event was held this year at Iowa State University in Ames, Iowa over Memorial Day break and hosted hundreds of State and Country champion teams from all over the world. The essence of the OM competition is in-depth creative problem solving focused on one of 5 chosen problems, with teams divided by grade level, which is based on the oldest student on a team (Division 1 is elementary, Division 2 is Middle School and Division 3 is High School). One of the unique aspects of competing in Odyssey of the Mind is the mantra "Absolutely NO Outside Assistance allowed," meaning only team members themselves can create original problem solving ideas, build structures, create artwork, etc. Family, friends, teachers and even their own Coach are forbidden from helping the team create any aspect of their solution and performance. In addition, all teams compete in what is called a "Spontaneous" session. This is where the team is placed in a room and given a hands-on or verbal problem to solve on the spot within a 3 or 5 minute time frame. Only Judges are allowed to be present in the room as they observe how creatively and cohesively the team works together to solve the on-the-spot problem.
THIS IS THE FIRST YEAR that 4 local schools earned spots to compete in the World Finals. The teams include Langley High School, two Cooper Middle School teams and one from Forestville Elementary. These teams earned first or second place at the Virginia State competition in April, with the Langley team winning the coveted "Ranatra Fusca" award for exceptional creativity in their problem solution.

The Division 3 Langley High School team competed in a problem named "Mockumentary, Seriously?", also known as the Classics problem, and placed 17th out of 60 US and International teams. The team recounted the classic Peter Pan story with a humorous twist in a live performance, including voice overs. An original set was created involving an artistic wooden structure to simulate Peter Pan flying, a handmade treasure chest with a working combination lock, an 8 foot articulating crocodile and costumes, all hand made using over 1,000 paint chip samples. This team had combined students from Langley HS, Cooper MS and the Langley school.
The Division 3 Langley High School team includes students Cassie Dallas, Macey Jacobs, Zoe Wang and Juliette Kim and was Coached by Jim Dallas.
The Division 3 Cooper Middle School team competed in a problem named "Triathlon Travels," also known as the Vehicle problem and placed 29th in the World Finals. The team designed and built a highly original human-powered vehicle, which two members rode in and navigated around a complex set of obstacles, while other members performed and narrated an entertainingly creative performance in unique hand made costumes. This team combined students from Cooper MS and Langley HS
The Division 3 Cooper team includes students Duncan Gibb, Colin Montie, Jackson Frankel, Marin George, and Sophia Montie and was Coached by Keith George.
The Division 2 Cooper Middle School team competed in a problem named "Animal House," also known as the Balsa wood building problem. The team designed a small structure entirely from balsa wood designed to hold as much weight as possible, while also performing a creative Egyptian-themed solution-based performance, which included a 7-foot Sphinx and a 6-foot Sarcophagus. At the State competition, the Cooper team's balsa structure held a whopping 974 pounds, which at the time was the highest weight held by any team in the U.S. this year. At the World Finals, the team finished in top 10, with their structure holding 790 pounds.
Cooper's Division 2 team includes students Nick Spoto, Katie Merrill, Raman Mathur, Connor Oakes, Mulan Pan, Natalie Hutchinson and Aliaa Saleh and was Coached by Mark Spoto.
THE DIVISION 1 Forestville team, competed in a problem called "Emoji, Speak for Yourself" and placed 16th out of 38 U.S. and International teams. This was this team's first time competing in OM, following a strong history of past Forestville OM teams. The team created 3 dimensional emojis and through an entertaining and moving performance communicated the life story of a once famous, but now forgotten, emoji. Their performance included choreographed dance, a unique robot that contained a team member, texting displays and sounds, all without any spoken language by team members.
Forestville's team includes students Yona Sankar, Zachary Ulman, Jibran Salam, Justin Kim, Allison Zhan, and Peter Popenko and was Coached by Uzma Salam.