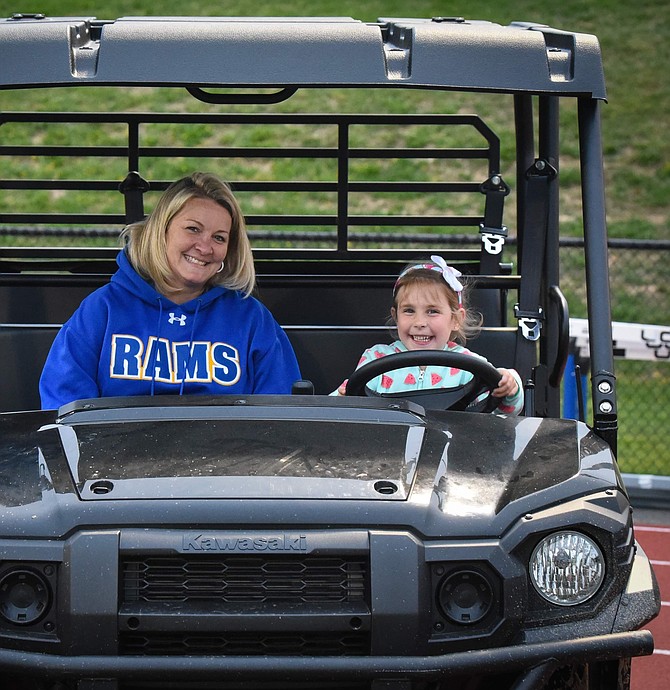 With 22 years in education, Tracey Phillips, 43, of Fairfax was named the new principal of Robinson Secondary School on July 26, 2019, replacing Matt Eline who took a job in Prince William County. She will be overseeing 3,800 students and a staff of 300.
Phillips also graduated from Robinson Secondary and Oak View Elementary and grew up in the same Rams' neighborhood. Her parents, Wes and Felecia Blaine, and sister Leslie Malkowski live right down the road.
What she loves about her job is the people, she said. "I'm home grown; I graduated from here; I grew up in this neighborhood. ...It's a unique environment, a welcoming place. The culture here draws you in and it's hard to not love it."

According to 2018-2019 stats, Robinson is composed of 59 percent white students; 14.6 percent Hispanic; 5.8 percent Black; 13 percent Asian; and 6.7 percent other. Students in the General Education division number 92 percent; and the Special Education is 14 percent.
"We're a high-achieving school with a population which is increasing in diversity," said Phillips. "We have the socioeconomic status of our students changing as well. Our students are all achieving and meeting benchmarks and doing excellent things in the classroom and extra-curricular activities. Students come engaged and they want to achieve and learn, and our graduation rates attest to that."
ROBINSON'S GREATEST ASSET is also its biggest challenge – which is its size, said Phillips. Not only the size of the building, but the size of the student population, staff and the community. "Being able to effectively reach and communicate with all those groups is challenging," she said.
As part of the Robinson Pyramid, Robinson has the reputation as being the largest International Baccalaureate school in the United States, she said. Last year it became MYP authorized (Middle Years Program) that feeds the diploma program for seventh to 10th grade. Phillips said the IB Program creates global citizens through innovative and creative thinking and expanding depths through conversations and research.
She added: "In the last few years we've been recognized by Virginia Special Olympics for being a banner school because of our inclusive environment for all students. We have Special Olympics teams that participate in all three sports seasons: soccer, basketball and track. We have two different sets of teams in each season: Unified teams and Special Olympic teams."
Phillips said Robinson's largest business partner is Capital One in McLean, but the school also has many smaller business partners in the community. Capital One gave a large grant called the Maker Space Classroom where students will have access to advanced technology, 3D printers and videography equipment to enhance their learning and demonstrate their knowledge. They support the STEAM initiatives and host the Capital One Coders.
She has a great relationship with the PTSO working to bring various programs and activities to the school, which will support both parents, students and teachers. "Our PTSO president (Shelley Smith) is a graduate from here. We have a lot of employees and parents who went to school here who have stayed in this community," she added.
According to Ann Wong, Robinson Subschool Principal: "Ms. Phillips demonstrates the characteristics of a true leader – goal-oriented, decisive, compassionate, collaborative, with the ability to make those who work with and for her better at what they do. I personally am a better educator because of what I have learned from her. As Principal, she recognizes that the most important factor to consider when making decisions is 'what is best for our students?' Ms. Phillips has already demonstrated her commitment to Robinson and her impact will be even greater as Principal."
According to Travis Hess, Robinson Assistant Principal: "Tracey did an exceptional job of stepping in and taking charge of Robinson when Matt Eline departed in April. Not only did she perform the duties of the acting principal, she simultaneously continued in her role as the associate principal as well. She is intelligent, composed, and decisive. All stakeholders know exactly where they stand with Tracey and that combined with her ability to support students and teachers alike are what make her an incredible leader."
Added Laura Leydon, Robinson Special Ed English 11 Teacher: "Eighteen years ago I team-taught with Tracey in an Algebra 1 class that combined regular ed, special ed and students with autism. Since that time Tracey has not changed in the way she leads with her heart. She values inclusion and works to build a community that supports and inspires all, students and staff alike. Tracey is the perfect person to take the helm of Robinson, and I am excited about the positive direction she will take the school just like she did in the math class so long ago."
PHILLIPS earned her undergrad degree in special education from Longwood College and got her Education Leadership degree at GMU. She taught at Bonnie Brae Elementary, Robinson Secondary (special education classes), was an Assistant Principal at Hayfield Secondary, Associate Principal at Hayfield Secondary; and returned to Robinson as Associate Principal in 2014.
She has a daughter named Ellie, age 5, who will be starting Kindergarten and is looking forward to being a Ram when she gets older. Phillips pushes the motto, "Dude, Be Nice," adding, "Our goal is to look out for each other and be kind with one another."