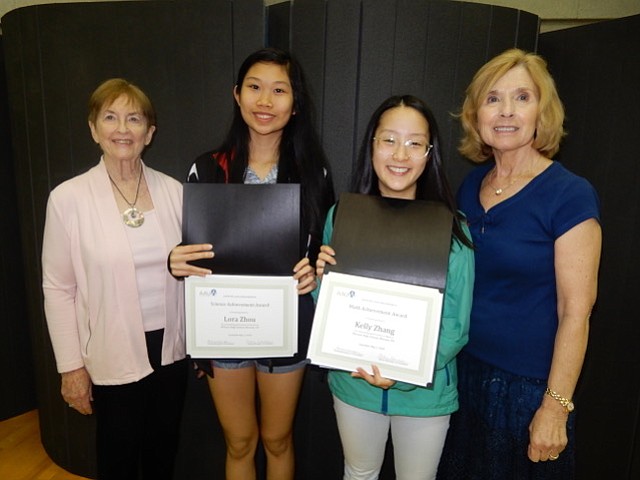 The McLean Area Branch of the American Association of University Women (AAUW) has partnered with counselors at McLean, Langley, and Marshall High Schools to award Science and Math Achievement Awards to six female students finishing their junior year. Each award, which is funded through the branch's annual book sale, consists of a certificate and a check for $100 for the honoree.
The criteria for the awards include a demonstrated record of overall academic success, as well as a distinguished record of achievement in either math or science. Career center counselors at the schools managed the process of selecting the students. The following students received the 2018 awards:
McLean High School – Math: Kelly Zhang
McLean High School – Science: Lora Zhou
Langley High School – Math: Rose Lee
Langley High School – Science: Eileen Wen
Marshall High School – Math: Madeleine Kienzle
Marshall High School – Science: Gwyneth McNamara
The awards are presented to the students by branch members at local award ceremonies held at each high school. The branch instituted the awards to encourage young women to pursue educational opportunities related to STEM (Science, Technology, Engineering, and Math). For more information on the McLean Area Branch and its annual book sale, visit the AAUW McLean Area website at http://mclean-va.aauw.net.