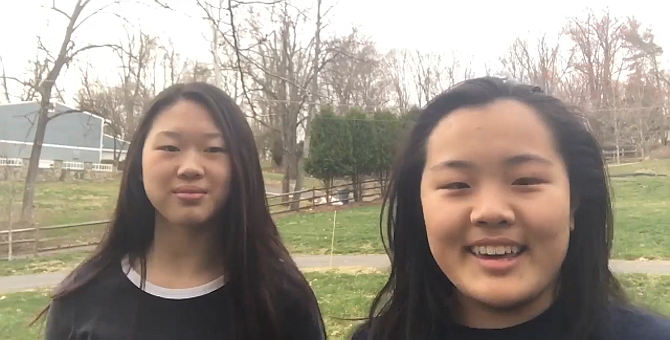 Emily Sun and Abigail Xu, students at Langley High School, have been selected as the 2020 recipients of the AAUW McLean Area Branch's STEM Excellence Award. The STEM (Science, Technology, Engineering, and Math) Excellence Award is given to a female student or team from a high school in the McLean area with an outstanding project in the field of Engineering entered in the Fairfax County Regional Science Fair. This year the students participated in a Virtual Science Fair by submitting three-minute videos for the judges to review.
The AAUW award recognizes the work done by Emily and Abigail on the project, "Flashlight Powered by Heat of Human Hand." Abigail and Emily developed and tested a flashlight that uses Peltier tiles to transfer body heat from a hand into electrical energy. They expanded on earlier work to develop a flashlight that works in a large range of temperatures. For the award, Emily and Abigail each received a Certificate of Merit and a check for $100. The students will also be recognized by AAUW at a branch program in the Fall.
In addition to receiving the AAUW STEM Excellence Award, Abigail and Emily were recognized at the Virtual Science Fair with a Certificate of Merit from the Armed Forces Communications and Electronics Association, Northern VA Chapter (AFCEA), and an award from Hunton Andrews Kurth, LLP for preparation, filing, and prosecution of a US Patent Application.
For more information on the American Association of University Women and the McLean Area Branch, visit the AAUW McLean Area website at http://mclean-va.aauw.net.