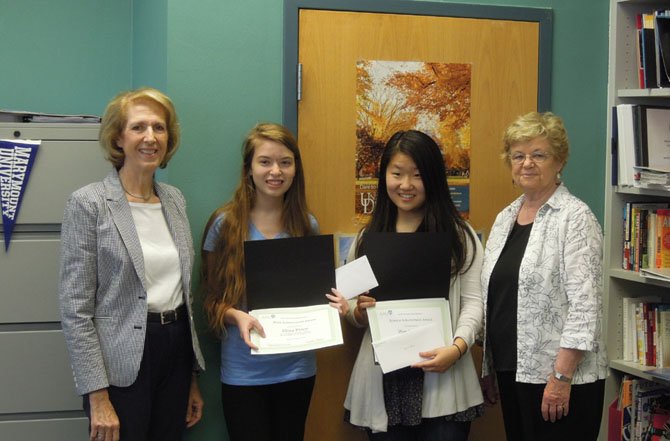 Eliza Price and Hye In (Lauren) Yeom, both juniors at McLean High School, were recognized at an awards ceremony on May 20 by the McLean Area Branch of American Association of University Women (AAUW).
Price, who received the AAUW McLean Area Branch Math Achievement Award, is a member of the Math Honor Society, Computer Science Honor Society, and the National Honor Society. She has been encouraged in her studies by her family, including her father who is a statistician and her mother who worked in corporate finance. Price plans to continue her pursuit of a STEM (science, technology, engineering or math) field in college by majoring in engineering, math, or computer science.
Yeom was the recipient of the AAUW McLean Area Branch Science Achievement Award based on her accomplishments in biology, chemistry, and physics. This year she won first place in McLean High School's Science and Engineering Fair and received Honorable Mention at the Fairfax County Regional Science Fair. Yeom was also recognized with a President's Volunteer Award for tutoring elementary school children in academic subjects including science. After high school, she plans to major in biology or chemistry and would like to attend medical school.
The selection of the students was coordinated by Dawn Allison, Career Center Specialist at McLean High School. The students were selected by a McLean High School committee, following an application process by the students. The awards presentation was made by Peg Stotz, incoming co-president of the McLean Area Branch, and Judy Page, STEM coordinator for the branch.