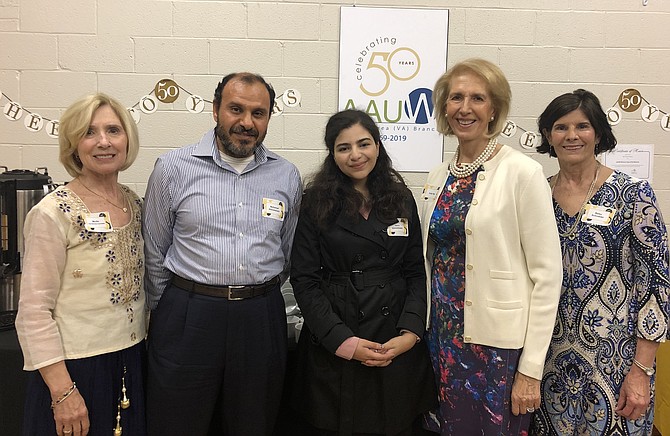 Hana Abouelenein, a sophomore at Langley High School, has been selected as the 2019 recipient of the AAUW McLean Area Branch's STEM Excellence Award. The STEM (Science, Technology, Engineering, and Math) Excellence Award is given to a female student or team from a high school in the McLean area with an outstanding project in the field of Engineering presented at the Fairfax County Regional Science Fair. Hana received a certificate, a $100 award, and recognition at the Branch's 50th Anniversary Dinner held on May 11, 2019, at the McLean Community Center.
This year's award recognized the work done by Hana on the project, "Creating a Neural Network that Differentiates Between Cancerous and Non-Cancerous Epithelial Cells." Hana created a neural network, which is a set of algorithms designed to recognize patterns, that used data about a skin cell's characteristics, including its width, height, circumference, and color to predict if it was cancerous or not. Her goal was to have an accuracy rate for predicting cancerous and non-cancerous cells of over 80 percent and in fact with her work she was able to achieve 84 percent accuracy.
At the Regional Science Fair held in March, Hana received a Third Place award for her project in the category of Robotics & Intelligent Machines and a second place award in STEM from the American Association of Engineers of Indian Origin, in addition to receiving the AAUW STEM Excellence Award.
For more information on the American Association of University Women and the McLean Area Branch, visit the AAUW McLean Area website at http://mclean-va.aauw.net.