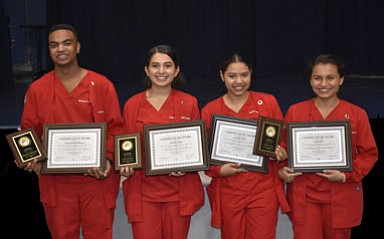 Alexandria — Ever since Lesly Alvarenga was little she always felt like having a career in the medical field was her calling — and she has not looked back since.
"When I was little, like 3 years old, I was in a really bad accident and I almost lost my life. Ever since then I felt like ... I have to give thanks to those staff and the people that helped me that day," said Alvarenga.
Alvarenga is one of the four students who graduated from T.C. Williams High School's surgical tech program of the Alexandria Public Schools Career and Technical Program (CTE). She and others take classes to obtain a certification which allows them to work in in career, giving students more options if students don't want to go the traditional route of obtaining a career through college.
Michele "Micki" Coffman, specialist for the CTE program said TC was one of the first schools in the state to offer a program like that.
The first surgical tech class was started in the 2012-2013 school year; the first time that students became part of the two-year program was in 2014. The class of 2018 was the fourth class to graduate from the program.
The classes are typically small with 20 student in each class. Students take the class during their senior year and students have a choice if they want to continue to the postsecondary part after they graduate from high school.
"To do the postsecondary piece, students are required to have a certain number of hours in all the different kinds of surgery. They are actually in the operating room, working with the surgeon and scrub techs. So they are learning and then when they finish the clinical piece they actually sit for their licensing exam," said Coffman.
The average cost of the program would be over $30,000; Alvangera said she took the class completely free through her school.
Alvangera said was originally going to do the nursing program, but the class was full. Her counselor told her about the surgical tech program.
The program allows for students to have on-site training in which the students are allowed to work with patients and surgeons. Alvangera said she felt inspired when she got the chance to help out during a surgery.
"Actually assisting the surgeon in the procedure ... I feel like it is something a lot of people don't get to do. You don't get to do that for a long time and we got to do that right out of high school," said Alvangera.
She even got a chance to drill into a part of the knee during a surgery.
"He let me drill into a bone for knee surgery, not lot of people get to do." said Alvangera.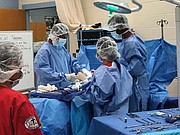 Marilyn Creech, clinical coordinator of the surgical technology program, said that students in the program take a test to get certified. For the past two years, including this year, the program had a 100 percent pass rate.
Creech stated that students are offered a job but the offer is conditional until the students pass their exams. Creech said that some of the students face bias due to their age.
"Because they are young, they already face bias, there is an assumption made that they are too young to do this," said Creech.
Coffman said a program like this and others are ways for students who don't do the traditional route of going to college for a career because of financial considerations.

"I think it is important to offer many opportunities to high school students after they graduate. Students have different circumstances and their post graduation path differs," said Coffman.
Most of the program's students are offered jobs and have employment after graduation.
Alvarenga was offered and took a job at Mount Vernon Hospital. She wants to work for a year to raise money to go to school. She said she really wants to be a physician assistant.
"I have never regretted it. It's been one of the best decisions I made for myself," she said.