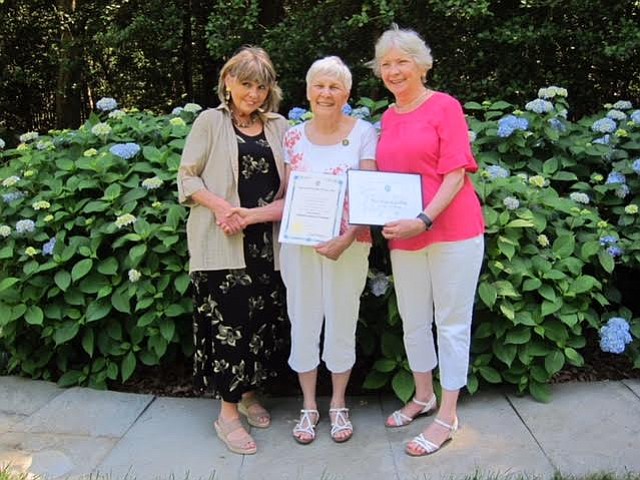 Long time Great Falls Garden Club member Barbara Cobb has been honored by National Garden Clubs with the Service and Recognition Member Award of Honor. It is the highest achievement for a National Garden Club member for service, commitment and outreach to their community and represents many years of dedication to the mission of gardening and education.

Barbara Cobb joined the Great Falls Garden Club in 1988. Very soon after joining, she became a leader in the organization, holding various important positions. One of her most significant contributions was in co-designing the garden that greets visitors to the Great Falls Library. She and her colleagues, Robin Rentsch and Karen Lucas, planned the garden to display native plants, show constant bloom and provide a habitat for pollinators.

Barbara, Robin and Karen organized an intense volunteer effort to create the garden they had designed. Since then, Barbara has demonstrated an extraordinary dedication to ensuring its continued success. She takes personal responsibility for watering the garden in dry periods, monitors and directs the work that needs to be done by volunteers, and makes certain the garden continues to add beauty and meaning to our community.
Barbara Cobb is a "garden club whisperer." She is one of those extraordinary people who lead by simply living an example. Her voice is not loud in volume but loud in spirit. Rather, it is quiet and purpose-driven; she talks to small groups and individuals, helping members understand the importance of certain issues. Her approach is gentle, reassuring, encouraging, and based on listening before talking.
Barbara assumes a quiet advocacy for garden beauty appropriately managed in eco-friendly practices. She continues a personal hope that members and the public will want to educate themselves to become better horticulturalists and gain a better understanding of the natural beauty that is under their care.

It is fair to say that every member of the Great Falls Garden club feels especially indebted to Barbara for her presence and leadership. There is not a task too great for her or a question too difficult. She will always find a way to support a member's interest or to support a cause that advances her dedication to caring for the beauty and nourishment that nature affords us.