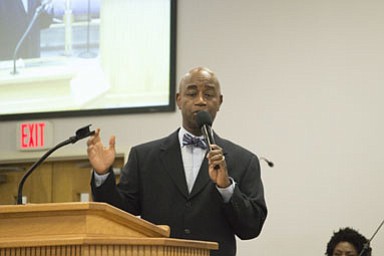 Alexandria — The songs from old hymnals filled Shiloh Baptist Church before the sermon about Juneteenth.
"We aren't free until we are all free," said Gary Carr, president of the Northern Virginia Urban League Guild.
The Juneteenth celebration at the church on Tuesday June 19, closed out several days of commemoration for Juneteenth.
On the Saturday before the event, the Freedom House had an open house and had 100 people attend, according to Aubrey Davis. The Freedom House Museum was also celebrating its 10th anniversary.
On Tuesday, Dr. Barry C. Black, chaplain of the United States Senate, spoke at the church on "Journey Beyond the Mountaintop." He was saying that people should keep God first if they want to see beyond the mountaintop.
Black is the first black chaplain to serve at the United States Senate; he is is also the longest serving chaplain in United States history.
During Black's speech, he gave personal accounts of his involvement during the Civil Rights Movement. When he was in Alabama, Martin Luther King Jr. helped him to turn back to Christianity after he became an agnostic.
"He stirred us to move to this great mountaintop," said Black.
Juneteenth is a holiday in which the last remaining slaves in Texas were finally set free. For 2 and a half years, slaves in Texas did not know they were free. June 19, 1865 was the day people in Texas got word that they were free.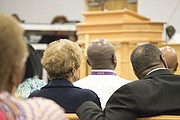 Davis said that even though Juneteenth celebrates the freedom of slaves from Texas, it is also a cultural celebration, to take pride in African-American culture.
"It is the end of the worst, if not one of the worst chapters in America history," said Steve Williams from the National Juneteenth Observance Foundation.
Darhyl Jasper from Alexandria said she was excited that something like this was happening. She was surprised that Juneteenth was not a big thing as it was in Texas.
"I'm from Houston, Texas, so Juneteenth is nothing new to me," said Jaspher.
Williams said when he was growing up in Denver, Juneteenth celebrations gave him a chance to meet other people who were different from himself.
"We always had Juneteenth celebration that brought the city together," said Williams.
Williams said his organization is in contact with members of Congress to rewrite a bill that would Juenteeth to become a national holiday. Williams said the Trump administration has supported the issue. Currently the only state that recognizes Juneteenth as a holiday is Texas.
Black concluded the ceremony by saying, "We have to be 10 times better if we want to move on from our past."