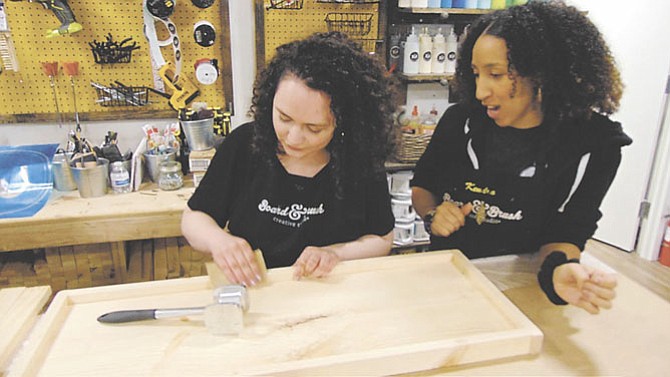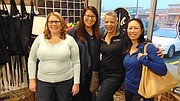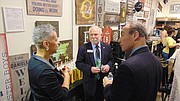 A new Board & Brush Creative Studio held a ribbon-cutting and open house at its new location in the Brookfield Plaza Shopping Center in Springfield on Thursday, Feb. 22, 2018. The shop offers residents the opportunity to create their own DIY hand-made wooden signs.
Guests can choose between 100 different signs, then choose the stains and paints and customize them with their names, locations, special dates, or marriages. They are great for wedding gifts, or to hang in the kitchen, laundry room or bedrooms.
"There's lots of different things you can do with them, including giving them away as gifts or just to have for yourself," said Opal Foster, owner, Board & Brush of Springfield, which opened in December 2017.
The company, with more than 100 franchises, was started in 2015 out of Hartland, Wisc., by Julie and Curt Selby. The Springfield shop holds DIY sign-making classes on weekends for $65 per adult, which includes all the raw materials to make the signs. Their instructors will walk participants through the steps of sanding, distressing and painting the wood – whatever it takes to complete the signs, which is about three hours. Board & Brush does corporate, private, and teen parties as well as parties for groups of friends.
"I think it's a great opportunity for people to come out and make a piece of art for their home," said Foster. "By the time you leave, you go home with a beautiful piece of art that you can immediately hang or show in your house."
"It's great to have fun, new businesses in the community -- a business that brings a unique item. This is something that's growing and trending where people want to get together and do parties and participate and have fun and make stuff," said Nancy-Jo Manney, president of the Greater Springfield Chamber of Commerce, who attended the ribbon-cutting.
Added Kathleen McDermott, Board Chair: "The Greater Springfield Chamber of Commerce is very excited to have such a creative and interesting business opening in our business community and they are a welcome addition to our community."
Kendra Dominick, assistant studio manager, added: "It's a perfect space just to enjoy time with loved ones or friends. You can come in and make a custom sign to take home with you and keep in the house forever. It's just a place that you can also keep coming back to and enjoying the different designs."
Board & Brush of Springfield is located at 7002 Spring Garden Drive, Springfield. For more information, visit www.boardandbrush.com/Springfield or call 571-635-7671.