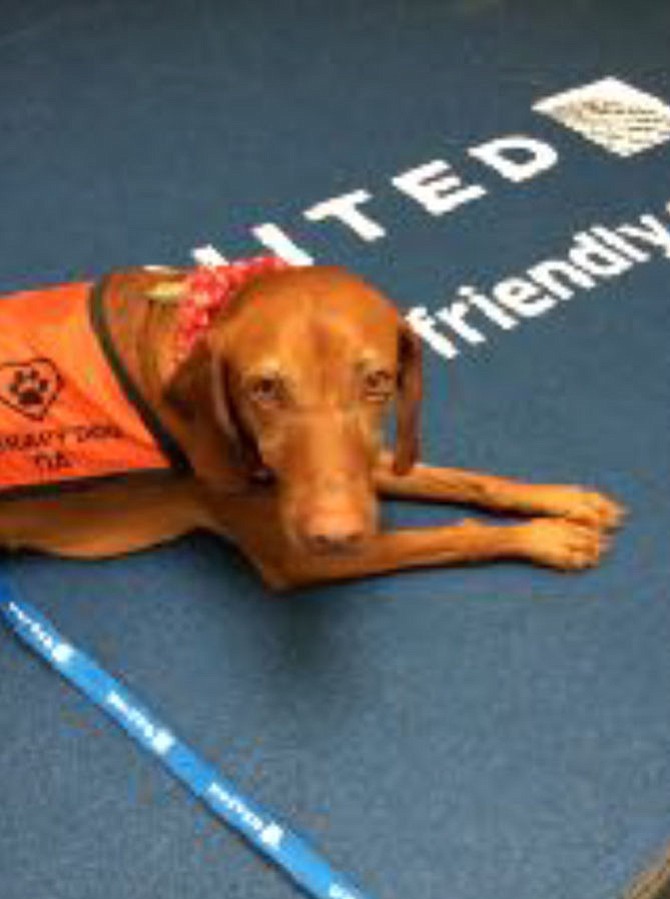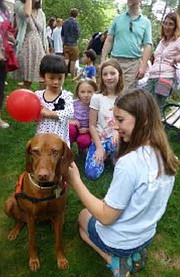 Working as a Therapy Dog since 2011, Tia has made many friends. Now with more than 200 hours of therapy dog service to severely injured adults, seniors, students of many ages at all education levels, child readers at library programs, holiday air travelers and airline crews at Dulles International Airport, and to visitors at Hungarian Embassy European Union Days, she is an accomplished and beloved representative of her Vizsla dog breed. Tia's community service also includes working in Fairfax County's Geese Management Program in 2010, and helping to alert the public to sale of puppy mill puppies within the County in a televised news story which aired in October. In addition to assisting her human friends, she regularly socializes Vizsla pups of all ages, and encourages their good behavior during weekly "Vizslas Go" group meet-ups.
Recently, for the milestone of her 10th birthday, Tia was honored by the Fairfax County Park Authority and Park Foundation for her years of service with a bench on the Gerry Connolly Cross County Trail in the Pohick Stream Valley Park. A firm believer in daily walks, Tia loves the area parks; and she and her admirers raised more than $2,300 for the FC Park Foundation in celebration of her special birthday.
Nationally ranked in 2011, she continues to enjoy and train in Agility and participates in other dog sports, including Barn Hunting, Nose Work, and Tracking. Someday she might be able to track and rescue a lost person…but right now she can only rescue hot dogs. So proud of our Canine Good Citizen — Tia!