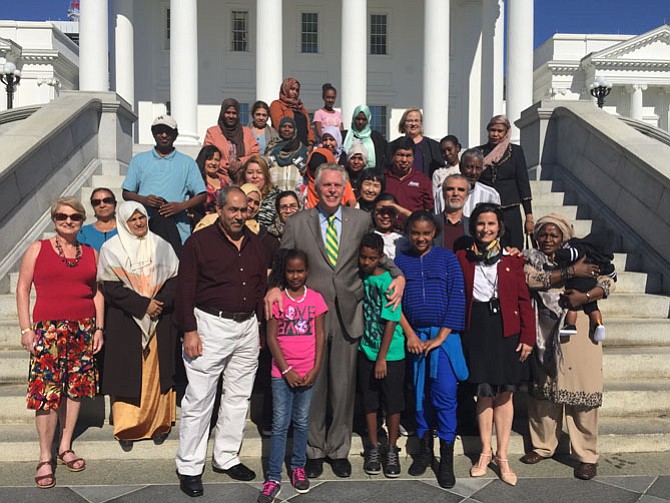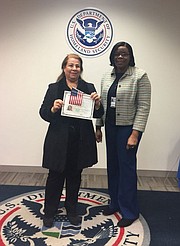 Cornerstones in Reston has been helping individuals and families in northwestern Fairfax County for nearly 50 years. The nonprofit organization provides support and advocacy for those in need by connecting clients with vital resources to build self-sufficient lives. Through the organization's comprehensive array of programs and services for housing, food, financial assistance, and childcare, lives change. However, one of Cornerstones' many programs may not be as well known.
It is Cornerstones' free American Citizenship Class, available to all adults age 18 and older. Students are welcome to join the Cornerstones' class at any time. The course is offered on a rolling admission with no class start and class end dates. Students progress at their rate. The course is offered year-round and provides free learning materials. In addition, there are no residency restrictions, but students must be able to speak, read, write and understand English. For those who need help with English as a Second Language, Cornerstones offers separate courses.
The American Citizenship class does more than teach the test facts to refugees and other immigrants. For volunteer teacher, Gillian Sescoe who is a naturalized citizen herself, the class quietly builds the students' trust and self-esteem by creating a sense of community, of family among the culturally diverse students. Sescoe reported there are currently 21 students in the class from 11 countries.
TOGETHER AS A FAMILY, teacher and classmates face the challenging and sometimes daunting journey of each student toward self-sufficiency but do so as Kerrie B. Wilson, chief executive officer at Cornerstones, said in a phone interview, "On their own terms, listening to their dreams."
Recently, Sumayah, a mother and refugee from Baghdad, Iraq, took Cornerstone's American Citizenship class, taught by Sescoe. The course not only helped Sumayah submit her USCIS N-400 application for naturalization, but it helped her to prepare for the Naturalization Interview and Citizenship Test. The naturalization exam is divided into four parts: the civics test questions, the reading part, the writing part and the speaking part.
The class provided the education and support Sumayah needed leading her to become a United States citizen. It took her one step closer and as a U. S. citizen removed "border walls" freeing Sumayah to be reunited with her desperately ill son in a German hospital.
According to Cornerstones, Samayah's son was one of the almost 1,500 children abducted in Iraq, most of whom tragically are never released back to their families. However, after the family paid a ransom to the kidnappers, he was released. Knowing it was unsafe to remain in Iraq, Sumayah, her husband, two daughters and son fled their homeland and made their way toward the refugee camps in Amman, Jordan. Nearing Amman, Samayah's husband suffered a fatal heart attack. Sumayah and her family eventually arrived in Amman and settled in a refugee camp. As time continued, one daughter received permission to live in Jordan and the other in England; her son received permission to live in Germany. Sumayah was allowed to enter the United States and settled in Reston. However, when Samayah's son became ill in Germany, she could not get a visa to travel there to be with him because she only held an Iraqi passport.
According to Cornerstones, their free American Citizenship class, lead by Gillian Sescoe, provided Sumayah the support she needed to start her journey back to her son. "Sumayah became Cornerstones' 127th student to pass the American Citizenship exam. When USCIS (the United States Citizenship and Immigration Services) heard of her plight, she was able to expeditiously take the oath of citizenship."
"The citizenship class offered by Gillian Sescoe is one of the most impactful services we offer at Cornerstones," said Greg White, MSW and chief operating officer at Cornerstones. "Beyond preparing students to take the citizenship test, Gillian also mentors and links students to additional resources to mitigate some of the other challenges they face in their lives."
Wilson, chief executive officer Cornerstones, described the groundbreaking way Sescoe through her model class program helps the students understand the fundamental concepts of American citizenship while building trust, self-esteem, team building skills, and social capital.
Wilson cited some of the special teaching and trust building strategies distinctive to Cornerstone's American Citizenship Class. "They break bread together," Wilson stated simply. "You can see the celebration of community." Wilson added that the instructor's personality also makes a major difference. She said, "Sescoe is a force to be reckoned with. … She cares so much about helping."
When asked what set her class apart, Sescoe said, "Some of these students have been through so much as they fled their country. This class is very unorthodox. There is no curriculum and students can join at any time. I take them to Richmond, to Congress. The students are amazed they can go and get so close to the government buildings." Sescoe explained that if she is absent, former students who are now naturalized citizens teach for her. Known as peer learning, it is a proven method of teaching. "This is their way to give back."
"When a new student comes, we ask them to introduce themselves," Sescoe said. "We see everyone here together, Muslims, Jews, Christians. We are brothers and sisters. … My class is a bridge to peace, a mini United Nations. … Right now, I have 21 students from 11 countries. It is a family. We celebrate all holidays.
"What I'm trying to do in my class," Sescoe said, "is not only teach them how to be citizens but help bolster their self-esteem."
For more information about the American Citizenship Class, visit cornerstonesva.org.