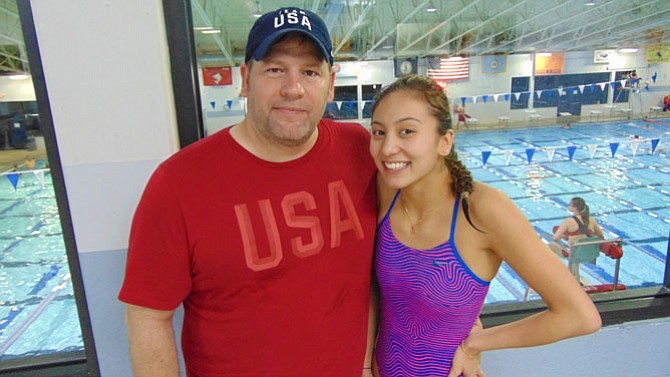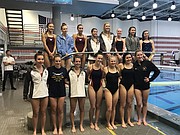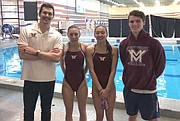 Hailey Fisher, 18, of Mount Vernon has been doing flips for as long as she can remember. Her mom Linda, 42, is the gymnastics coach at Mount Vernon High for 18 years, and her dad Tim, 45, teaches diving with the Alexandria Dive Club.
"Her mother is a gymnast and I'm a diver so she's been around gymnastics and diving her entire life," said her dad Tim, her main dive coach who's been coaching since 1993. "She's been an athlete since she's been very young. She's been doing gymnastics with her mom and trampoline with me. She's always been gifted with her flips and carried that through her diving. She's very flexible, very quick, and has acrobatic awareness, and that's transferred very well with her diving."
It's no wonder that the Mount Vernon High School senior is a three-time state diving champion, scoring 434.25 and coming in first place against divers from eight high schools in the Virginia 6A state championship on Feb. 16 at Oak Marr Rec Center.
She holds the record for VHSL 6A state championship, at 447 points for 11-dives. And she also holds the record for 5A state schools, which is 465 points. That's also the Mount Vernon High School diving record.
In addition to her state records, Hailey is a two-time All-American (in 2015 and 2016) and a four-time Region champion four years in a row for Fairfax County, as well as a four-time Conference champion. She's also a two-time All-Met Honorable Mention and one-time All-Met First Team.
Hailey dives for both Mount Vernon High's Swim and Dive team as well as 10 years with the Alexandria Dive Club, which meets at Lee District Rec Center. Her dad started that club in 2008; today it has 85 members. Before that, she dove with the Patriot Dive Club for three years.
Her dad says her best dives are her back-one-and-a-half-pike on the one meter and back-two-and-a-half-tuck on the three meter. "She's super consistent; that's her thing, where a lot of people are inconsistent with their dives, she remains consistent in her meets. She stays in 430-465 consistently on 11 dives," said her dad.
Tim Fisher coaches with the Alexandria Dive Club, which is currently ranked the No. 2 Junior Dive Club in the country. He dove in college and was the IHSAA state diving champion at Indiana High School in 1990. Bryan Bahr is the head high school diving coach at Mount Vernon.
Hailey's strategy during a dive meet is to remain consistent, she said. "I dive the way that I dive at practice. I keep my head in the practice zone, but if I get in the competition zone, I psych myself out. The way that you practice is the way you're supposed to compete."
And she tries to stay relaxed, she said. "I take it dive by dive. I try not to get too anxious. Just stay relaxed and do them the way I practice them," she said. "They all have to be high-scoring in order to win; I can't have one specific dive. Most of my dives are pretty consistent," she said, scoring between 6 and 7 or higher.
She dives the same exact dives for high school and club team, she said. "I dive year-round; I only get one month off in August," she said. Her goal was to be state champ four years in a row, but she couldn't dive last year due to ankle surgery.
With diving taking up three hours of her day, she doesn't have a lot of spare time for other activities. But she does squeeze in gymnastics; she was the captain of her gymnastics team at Mount Vernon, which has three members. She also tinkers in studio art and photography, ceramics, painting, and drawing as well as hiking and being outdoors. She verbally committed to dive at North Carolina State in the fall, where she plans to study business and marketing. Hailey has two siblings: Miah, 15; and Jacob, 13.