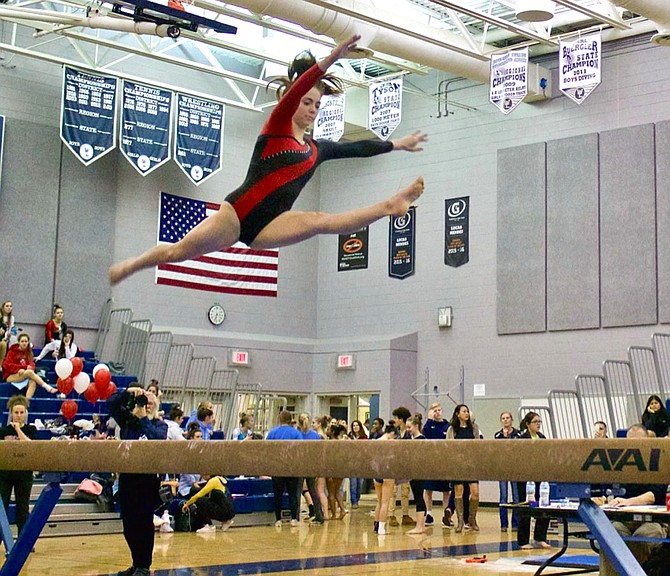 One of the most prolific, accomplished and successful gymnasts to ever compete for Herndon High School is Kerry Gallagher, said Keith Naquin, gymnastics assistant coach at Herndon High School. "She consistently scores a 38 in most meets (over 9.5 per event average) whether injured, under the weather or with a slew of photographers snapping away during her performance," he said. Named All-around Champion at the Northern Region 6D Gymnastics Championship at Washington-Liberty High School in Arlington on Feb. 13, Gallagher prepared the following week to compete in the VA 6A State Gymnastics Individual Open Championship in Nokesville, Va. "She's tough as nails, physically and mentally," said Jonathan Frohm, Director of Student Activities Herndon High School.
FOR THE ATHLETE, it's been slow but steady progress. Gallagher won her first meet as a freshman but did not make it to states. "I won a few more meets during my sophomore and junior years, and made it to states but only in one event, bars. This year as a senior, I ...adjusted my routines... to score a little higher... I really wanted to qualify for all four events. I felt good going into Districts... I won 1st on bars, beam and floor, came in 3rd on vault and won 1st All-around, so I was able to advance to Regionals. Then, when I got to Regionals, I had a good day and was able to hit all my routines. I took 1st on bars, beam and floor, and 2nd on vault," Gallagher said.
According to Frohm, Gallagher possesses a "mental toughness." She focuses on her routines and skill sequence timing in a calm and confident mindset, according to Naquin, who called Gallagher, "a formidable competitor." Gallagher acknowledged that gymnastics is a hard sport. "You have to put in a lot of time to compete, so you... have to have a strong desire and determination," she said. According to Gallagher, she goes to the Apollo Gymnastics training facility in Woodbridge every day after school except Wednesdays from 4 - 9 p.m. and Saturdays from 9 a.m.-2:30 p.m., plus she travels for competitions. In addition, Gallagher, a senior, is on the Herndon High School Gymnastic Team and is captain.
Gallagher's mother, Jill, said that as a parent of a gymnast, it's been hard to manage the schedule, the travel and the costs. However, the benefits outweigh the struggles. "The sport provides a lot of structure and discipline, which I think has transferred over to other areas of her life. She's a hard worker on and off the mat and has great time management," said Jill Gallagher.
Admitting to pre-event jitters before competitions, Gallagher utilizes coping techniques. "I talk to my team-mates to try to relax...and have fun during the competition. We all cheer each other on, and that helps," she said. "Kerry's mental focus this year has been outstanding… Knowing you can win each event and the all-around at the district and region level, and then actually making it happen is an incredible feat for a young athlete. Kerry was able to accomplish this with strong coaching, parental support and mental toughness," said Frohm.
Gallagher's ability to balance a hard-working environment with spirited-fun and helpfulness made her "a most delightful and coachable athlete," said Naquin. "She has a pleasant demeanor, never complains, and embraces gymnastics and its physical challenges... Because of her gymnastics prowess and daily training regimen, she instills team camaraderie by way of engaging with her team-mates who also seek her guidance. She also cheers for her competitors by recognizing their training dedication, and genuinely desires for them to do well," Naquin said.
LOOKING BEYOND states and graduation toward the future, Gallagher said that she plans to go to the College of Brockport in New York. "It's a small school, has my major, physical therapy, and they have a great gymnastics team. I have been up for a visit and...I have family nearby... It's a great fit for me."
Gallagher competed in the VA 6A State Gymnastics Individual Open Championship in Nokesville, VA on Feb. 22. While the Herndon High School gymnastics team did not qualify to have a shot at a state title, Kerry Gallagher competed as an individual, having earned All-around Champion at Northern Region 6D Gymnastics Championship at Washington-Liberty High School in Arlington, VA on Feb. 13.
"(At states), Kerry medaled on floor (9.45) and got the highest she ever has on vault (9.575); did good on bars (9.45) but had a little stumble on beam (9.3) that bumped her down a little in All-Around. Out of the 60 or so kids, she was 7th All-Around. She was a little sad, but that's how this sport is – up down, up down all the time," said Jill Gallagher, mother of gymnast Kerry Gallagher.