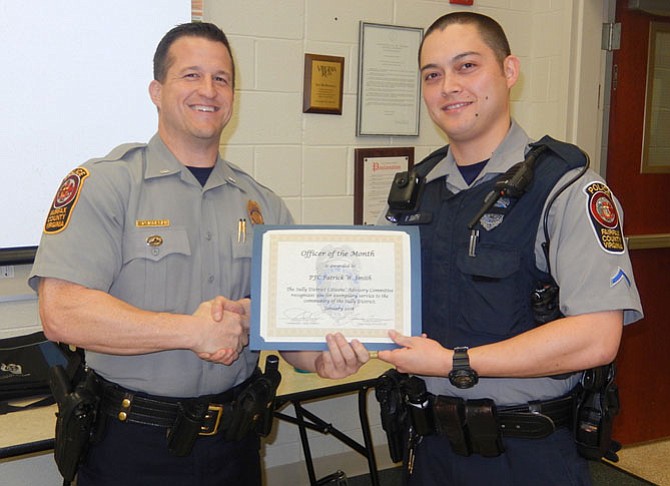 PFC Patrick Smith has been named the Sully District Police Station's Officer of the Month for January. He was honored during the Feb. 21 meeting of the station's Citizens Advisory Committee.
In nominating him for this award, his supervisor, Lt. Nicholas Dipippa, detailed why Smith is deserving of it. He wrote that, on a recent cold and snowy night, Smith responded to a three-car accident on Northbourne Drive in Centreville.
When he arrived at the scene, he discovered that – while one car was at a stop sign – another car rear-ended it, pushing it into a third vehicle. It was immediately apparent to Smith that the damage was extensive.
"The force of the collision pushed one vehicle across the street and into the yard of a residence, nearly striking a house," wrote Dipippa. "Smith immediately rendered aid and also focused efforts to determine what had occurred."
Dipippa said Smith was able to ascertain that a large, pickup truck was responsible for the accident and the driver had fled the scene on foot. As medics continued administering care to the crash victims, Smith coordinated a neighborhood search for the missing driver.
"Assisting officers helped determine that, prior to the accident, the truck had been driving through the yards of other residents, causing large ruts and damaging personal property in its path," said Dipippa. "Smith leveraged investigative leads from the crash scene, [and] information gleaned from the truck's license plate led officers to a residence in the area."
Due to the fresh snowfall, he was able to match the tire tracks from the crash scene and other locations to those in the suspected truck owner's driveway. However, he couldn't determine if the suspect had made it home, so the investigation continued. Hours later, wrote Dipippa, "An alert community member called police to advise them that an unknown man had entered their house and appeared unconscious."
"The description provided by the community member eerily matched the driver of the pickup truck," continued Dipippa. "The subject allegedly entered the house through an unsecured door. He was surprised when awakened by PFC Smith and taken into custody, not fully recalling every detail of the night due to intoxication."
Dipippa noted that "Criminals often flee when their poor choices will likely result in punitive actions. Responding officers charged with investigating criminal activity often rely on information from the community and from physical evidence if it's available."
Illustrating this fact, he wrote, "The actions taken by Smith are indicative of great teamwork between the Police Department and the community to identify and locate a dangerous person. For his efforts in keeping the community safe, PFC Patrick Smith has earned Officer of the Month for January 2018."