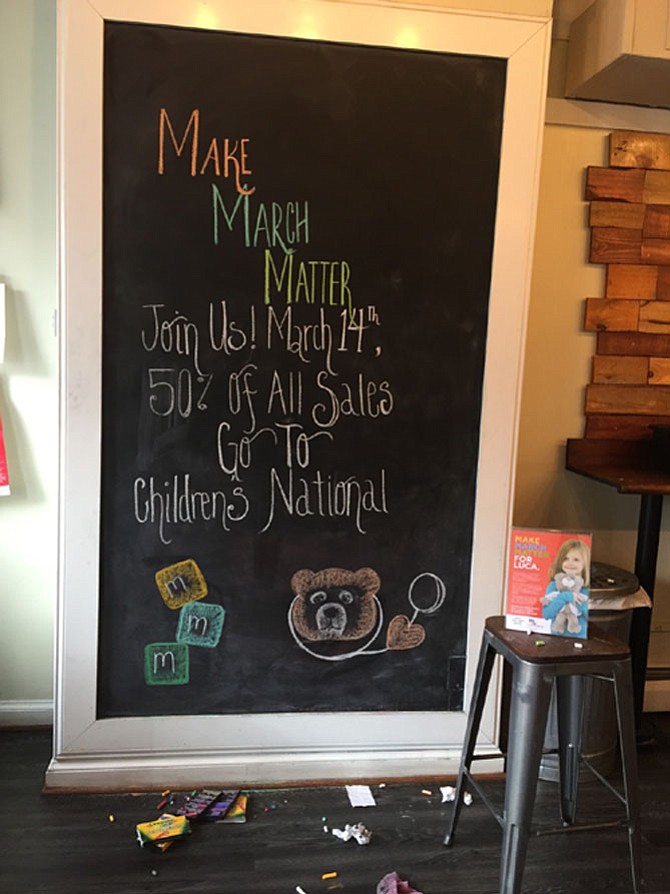 Every year, hundreds of thousands of children in the D.C. metropolitan area confront terrifying, body-ravaging, and even life-threatening illnesses. Along with their families, they must put their young lives on hold to fight off bodily threat.
Last year, 230,000 of these children turned to Children's National Health System (CNHS). In honor of past patients like these, and for those in 2018 and beyond, Children's National Health System Hospitals partnered with local businesses to launch the Make March Matter campaign to raise $1 million for CNHS.
"The campaign started out in Los Angeles, to benefit the Children's Hospital of Los Angeles (CHLA)," said Tracy Jones, director of Children's National Health System Hospitals, which is a nonprofit organization that raises funding and awareness for a group of children's hospitals, including CNHS. "The team out there wanted to pick a month to rally around pediatric health. They launched the campaign in 2016 and after they had two successful years out there, we started having conversations about bringing this campaign to Washington D.C. We started planning back in June, and the campaigned quickly gained momentum."
This month, Children's National Health System Hospitals is partnering with 150 businesses to fundraise for CNHS's Fund for Every Child, which was established to help guarantee quality care for every child regardless of background, insurance status or financial position. Throughout the month, these businesses – from restaurants to retail establishments to spa service providers – will hold their own promotions and other special events to contribute to the campaign's collective goal of raising $1 million for the cause.
"Independent of how CHLA first set their $1 million goal, we thought it was the perfect amount for a first goal to rally the community," Jones said. "It's a large amount that would make a big impact on the hospital. It's an ambitious goal, but we've already surpassed our own expectations. We wanted to have 55 partners like CHLA did their first year, but we have 150 partners participating. It's a big ask, but these local businesses know the impact that Children's National has on their communities, customers. When we said we wanted to make March matter, the community stood up and said, 'We do too. We want to make March matter.'"
Old Town Dolci Gelati, a sweet shop that has taken up residence at 107 N Fairfax St in Alexandria for the last two and a half years, jumped at the opportunity to make this month matter for current and future patients of CNHS.
"As a gathering point for the community, we feel that we are uniquely positioned to not only make and serve the best gelato and coffee in town, but also rally the community for great causes like Make March Matter," said Eric Roper, the owner and general manager of Old Town Dolci Gelati. "As an ice cream shop, we see a lot of kids and families come through the shop each spring and summer and we really try to focus on causes to support children. Knowing that Children's National helps 230,000 kids every year, being able to assist with their fundraising really aligns with our mission and beliefs."
While most of D.C.'s Make March Matter participants are new to fundraising for Children's National Health System, others are veterans to contributing to the D.C. children's health giant. The team at Alexandria's Sara Campbell, a women's clothing boutique at 320 Prince St. in Alexandria, routinely participates in CNHS fundraisers, and Make March Matter is no exception.
"Children's National is a very special organization to our community," said Alanna Swisher, Sara Campbell assistant manager. "We all know some family who has been touched by their services, whether it be nutritional counseling or something far more serious, that we all pray will never affect us. It is our pleasure to support such a well-respected medical institution making a difference every day in so many children's lives."
Swisher added that the goal is for Sara Campbell to raise at least $1,000.
Although new to the Alexandria scene, Twist Boutique at 109 N Fairfax St. has also pledged to make March matter.
"While I have had a personal experience with Children's National, as my son was referred there for occupational therapy, even before this I was aware of them and the great work they do for children," said Twist Boutique owner Kristen Moore. "Not only did I know I wanted to be a part of helping them raise funds, I knew that there would be strength in numbers and that other businesses would be participating to help ensure their fundraising success.
Whether local businesses hold a one-day event, a month-long promotion, or anything in between, Jones said she has been impressed with the ideas that have surfaced from local businesses.
"Everyone is activating in a way that works for them," Jones said. "Some are holding promotions that last the entire month, some one day, some two days, some one week, and so on."
CNHS is the second hospital to launch its own Make March Matter, and Jones already anticipates that it will be an overwhelming hit in this region.
"The campaign itself ends March 31, but a number of the businesses will continue to fundraise throughout the year," she said. "And, right after this March 31, we will start planning for Make March Matter 2019. We're hoping to make this a national movement."