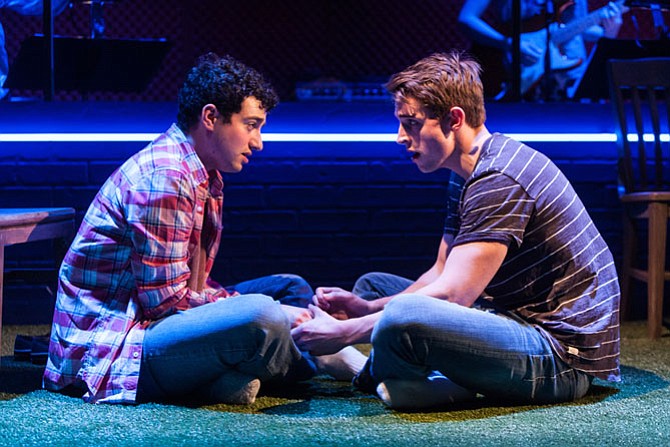 Signature Theatre i is presenting "Girlfriend," a homosexual love story and musical by Todd Almond and Matthew Sweet, from now through June 10 at its Ark Theater.
The play is a coming-of-age musical duet from when flannel was the height of fashion and mix tapes were the language of love. The setting takes place in 1993 in small-town Nebraska during the summer between high school and whatever comes next. College-bound jock Mike and self-assured but aimless Will find themselves drawn to each other. Their rush of first-time love, full of excitement, confusion and passion, is captured by the power-pop precision and frayed guitar emotion of Matthew Sweet's alternative rock album "Girlfriend."
"'Girlfriend' is the piece of theatre that I needed as a young gay man and one that simply didn't exist. Here is a love story about two boys that does not involve AIDS or gay bashing," said Director Matthew Gardiner.
He continued: "Plays like 'Angels in America' and 'Normal Heart' are vital stories, but I always wanted to see a piece of theater where the gay story didn't involve that layer of suffering. 'Girlfriend' is a hopeful story. Some gay men might say it's idealistic. For me, it was the kind of story I wanted and needed as a young man. A love story is not uncommon in musical theatre, a love story from the gay perspective is."
What he hopes the audience takes away from this depends on who they are, he said. "I think for most, it will bring them back to this awkward, exciting and terrifying moment in life of first love. For most, I think the story will feel nostalgic. For those who don't have many LGBTQ influences around them, I hope the piece shows how much more we are alike than different. But more than anything I hope that the young LGBTQ youth in the audience who may feel uncomfortable in their own skin feel a sense of courage and hope after seeing this show," he said.

Lukas James Miller plays the role of Mike, a closeted gay teenager who just graduated from high school in Nebraska. "He is riding this high of newfound freedom and confidence that comes with the summer after high school before moving away for college, and in this time explores his feelings for classmate Will starting with the sharing of a mixtape," he said.
"This entire process has been streamlined and productive thanks to the direction and vision of Matthew Gardiner leaving very little room for challenges. However, one thing that I focus on is honoring the arch of the entire relationship throughout the piece and never becoming too comfortable with the progression of events. I'm hoping to keep each performance fresh and relatable to every life experience," he said.
He hopes that everyone who sees this production walks away with a very full heart and wonderful memories of their lives at this vulnerable time. "Most importantly, I hope that audiences will be happy to see a homosexual love story that is a heavy drama centered around the nature of the relationship. Love stories don't need to be this hetero-normative concept; love is love," he said.
Jimmy Mavrikes plays the role of Will, who he says takes it one step at a time. "Throughout the course of the show he realizes he's meant for more, and Michael helps him realize that. While I would like to think that Will goes off to be wildly successful in something after the show ends… I don't think he does. Ha-ha. I think Will is strong, goofy, and someone we all know," he said.
He said the show is a two-person musical "where neither of us really leave the stage. It was difficult to memorize and learn the sequence of the show. There's always an element of 'Oh God, what if I start the wrong scene?'" he said.
Signature Theatre is presenting "Girlfriend" from now through June 10. Tickets are $40 to $80. Show times are Tuesdays through Sundays at 7:30 and 8 p.m.; with 2 p.m. matinees on Saturdays and Sundays, and Sundays at 7 p.m. Specialty Nights are Discussion Nights on May 8, 16 and 23; Pride Nights on May 11 and 18; and Open Captioning on June 3 at 2 p.m. The venue is located at 4200 Campbell Ave. Call the Box Office at 703-820-9771 or visit www.sigtheatre.org.