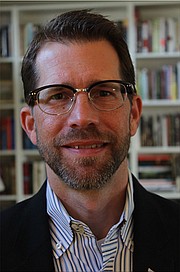 Below is the sixth in an ongoing series of conversations with local religious leaders about religion in the public square.
The Rev. Dr. Scott Maurer pastors West City Fellowship, a small Christian congregation in the West End, which wants "to bring the Kingdom of God to our community," according to its web site. To that end, the church partners with the New Day Help Center, its nascent nonprofit offshoot.
At New Day, Maurer and others offer pastoral knowhow to the community through various free services, including counseling. Over 15 years of ministry, Maurer has garnered much practical experience working with marriages, families, addictions, depression, etc. He thinks that experience would benefit people outside the church too, especially those who can't afford mental health services. New Day also offers youth mentorship; hospitality and English-learning for immigrants; seminars to build family and social skills; coordination between other local faith communities and local government. Learn more at www.westcityfellowship.com and www.newdayhelp.org, or call 571-406-5902.
In a previous conversation, you said you want to "release" into the community what the churches have to offer. What do you mean?
It has been my experience that when people think about what our Alexandria churches have to offer our community, they typically think about things like food pantries, help with housing, or a volunteer pool that can be tapped for existing programs. All these things are valuable and important. But I think that the most valuable things our churches have to offer are our content and our community (and the two are tied together). For example, churches can offer our youth rich responses to the anxiety that so many of them experience these days. Churches offer deeply thoughtful guidance to having a thriving marriage and healthy family. But, because this value is not often recognized outside the church doors, it remains "unreleased." That is a tragedy.
What is the New Day Help Center, its origins and purpose? How do it and your congregation as a community of faith relate?
New Day Help Center is our attempt at "releasing" the content and community I just mentioned. We offer free individual and family counseling. We also offer personal development seminars to teach some of this content — for example, healthy marriage, conflict resolution, anger management, responsible manhood, etc. We are faith-based, but we serve all people. The people we serve have differing levels of interest in faith issues, so we engage them however they are comfortable. Some are interested in joining a group or a faith community as part of their healing. In these cases, we do our best to connect them with an appropriate faith community. It may be the church that I pastor [or] another faith community.

Do you hope to impact any particular demographic or need? What have been the results so far? What kind of people and life issues are you encountering most?
We serve anybody — no charge — no questions asked. This is a core value because we believe that there are people out there that do not have the money to get the counseling they need, but they do not qualify for free counseling. Rates of addiction, suicide, trauma, depression, addiction, etc. are increasing but much of it goes unaddressed. Of those we have seen so far, many are coming for relationship issues. We are also seeing anxiety, depression, addiction, and anger to give you some examples. These cases range from fairly mild to quite severe.

How does your pastoral identity and experience relate to your counseling non-Christian people about issues that aren't necessarily religious in nature? For example, your literature says you might apply "Christian principles," though "in ways that are relevant to non-Christians," and refers to practices like "prayer therapy" and "confession/forgiveness."
My motivation stems from a firm belief that God took flesh in Jesus Christ, died for my sins, rose again, ascended into heaven, and now he calls me to engage with him in building his kingdom in order to bless the world. I really believe that and take it seriously. Therefore, a big part of joining Jesus in this work is loving people unconditionally and doing everything I can to heal them of whatever causes them to suffer and keeps them from living the abundant life Jesus offered. With that said, people have every right to believe whatever they want to believe. I certainly respect that. This is one of the reasons that we are upfront in our literature about the fact that we apply Christian principles. I am open about the fact that I am a pastor in addition to the counseling work I do. As I discuss these things with people, I also ask them about their own spiritual ideas. This helps me tailor my approach to the person. I am familiar with many modern non-Christian psychotherapies and I employ elements of many of them. But I will bring in biblical principles to whatever degree the person is comfortable.
Regarding "prayer therapy," this is something we offer if people are interested. I have seen people helped by this after years of unsuccessfully trying other things. You also asked about forgiveness, and this is something the Bible speaks a lot about. Much modern psychology has recognized the human impact of unforgiveness and has developed therapies that sound increasingly like what Christianity has taught for a long time. Also, confession has been shown to be a powerful tool in setting people free of guilt that literally could make them physically sick. Christianity has several thousand years of wisdom with themes such as these — much of this wisdom has been backed up by modern research.
I am not ashamed of the rich Christian content we have to offer those with mental health needs. For us not to at least make it available would be unethical in my opinion. Of all the people we've seen so far, even those who have said they were not particularly interested in Christianity have returned for further services. That tells me that they feel accepted, comfortable, and helped.
How do you, or how might you, relate to or collaborate with the public and private sectors — local government, schools, legal/penal system, healthcare — on the larger mental health issue? What are the opportunities and challenges? For example, your literature talks about a "matchmaking mechanism" and "handoff."
This remains a big challenge. I believe that the public sector and the faith communities should work together in healthy ways. In Alexandria, this works pretty well in the areas of housing, hunger, and mentoring for example. But I don't think we've figured this out in the area of mental health — and here I'm including all the "inner person" issues such as behavioral health, youth resiliency, substance abuse, prisoner rehabilitation, and so on. This is a shame because there is a lot of research showing the positive effects of faith-based programs and that at-risk members of the community benefit from faith-based solutions more than wealthier community members. I think there is culpability for this on the part of both the local government and the faith communities. The faith communities need to learn to better package their community offerings in ways that are usable by the local government entities that deal with these issues. And the local government needs to recognize the value of faith communities for things beyond food, housing, and volunteers. Helping our local government and our faith communities better address these "inner person" issues is part of New Day Help Center's mission. There is a lot of work to be done here, and I am hopeful that our local government and our faith communities will decide that this is important enough to give some real focus — otherwise, I think much benefit to our communities will remain "unreleased." So, we'll see.
We've previously discussed two approaches that faith institutions might take when engaging the wider society and other disciplines: (1) society shouldn't hinder us from doing things separately on our own terms, let us do our own thing; or (2) can we be present in secular systems and structures that already exist, but while staying true to our religious values? An accurate framing?
I think you've framed it well. And I guess my preference would be for a sort of hybrid of these approaches. I call this hybrid "entrepreneurial pluralism." The idea is to create an environment where social entrepreneurs can be creative with their ideas about helping people. The result is that people in need have many options and have an increasing chance of finding the best solution for them. Government can play a critical role in facilitating this kind of environment. The key is to minimize regulation while keeping public risk at acceptable levels. If this is done well, the payoffs can be significant. But it takes work, commitment, creativity, and courage — especially if this is going to work in the broad area of mental health.

How do you perceive the church-and-state dynamic at the national level? The local level? If you had all Alexandria faith leaders together or on a conference call, what would you tell them with regard to the city?
I think church/state dynamics are working very well in some places and not so well in others. For example, the Tennessee and Ohio governments are emphasizing the importance of engaging their faith communities to combat the addiction epidemic. It may be that they are more desperate to figure out how to do this, but I think we need to figure out this cooperation in Alexandria before we reach the point of desperation. What I'd say to Alexandria's faith leaders might be to ask if they and their members are truly committed to do the preparatory work, and make the necessary sacrifices to minister to the "tough cases" — especially those under that broadest definition of "mental health"? And what I'd say to our local government leaders would be to encourage them to ask the faith communities how they can help the faith communities better "release" what they have to offer our city.