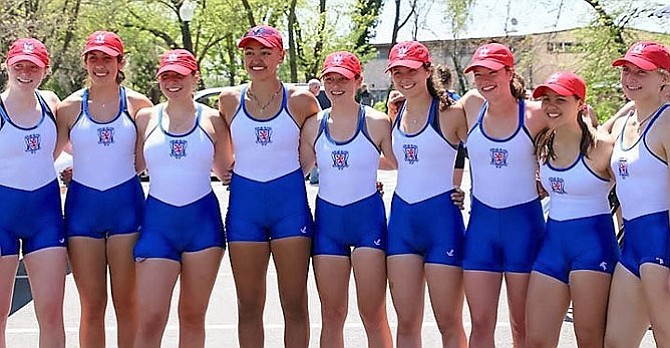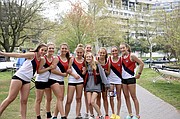 The T.C. Williams High School Crew Team finished the regular season on April 28 with most of their boats at the Charlie Butt Regatta on the Potomac River at Georgetown, and two Women's Doubles racing at the Al Urquia Regatta on the Occoquan Reservoir. Titan rowers, coxswains, and coaches continued to tweak their game as they prepare for two weekends of Virginia Scholastic Rowing Association (VASRA) championship competitions.
For the third week in a row, the TC Men's First 4+ rowed to victory, clinching the win with a time of 5:05.3, ahead of home town rival West Potomac (5:22.7) and Stone Bridge (5:30.8). For Titans Stefanos Psaltis-Ivanis, Connor McGivern, Jake Souza, and Ian Willmore, and coxswain Michaela Gleeson, the next challenge comes at Occoquan on May 12 for the state title.

Following a win in their early morning heat, the TC Women's First 8 also secured a win in their final with a time of 5:15.4, besting Yorktown (5:23.5) and McLean (5:25.0).
"Our race was strong from the beginning—we flew right off the start in front of the other boats," said 1-V-8 senior rower Grace Hogan. "You could feel everyone's excitement as we were rowing."
Senior boatmate Charlotte Carey added that "there's really no better feeling than finishing a race knowing you had the best one possible. I think Charlie Butt set us up for a strong next few weeks and I'm really looking forward to what the end of the season brings."
Hogan, Carey, and First 8 rowers Grace Vannatta, Grace Asch, Madeline Toaso, Rachel Knapp, Grace Fluharty, and Blythe Markel, and coxswain Paula Filios now turn their attention to States on May 12.
Racing together as a boat for only their second regatta, the Men's Lightweight 4+, featuring rowers Wogan Snyder, Campbell Bright, Matt Cheung, and Cameron Luther and coxswain Kai Linehan, won their final with a time of 5:25.3.
Senior cox Linehan explained that during practice in the week prior to the race, "we focused on a particular technique that our coach [Matt Schilling] recommended to increase the rowers' number of strokes per minute. We used it at the beginning of the race to get a jump start . . . and then later in the race to clinch a strong finish."
The TC Women's Second 8 and Lightweight 8 boats competed in a combined race category at the CB, with each boat advancing from their respective heats to the final. In that event, TC's Second 8 – rowers Ailysh Motsinger, Cleo Lewis, Emma Carroll, Madeleine Allen, Elspeth Collard, Charlotte Milone, Julia Clements, and Lydia Greenwood and coxswain Sara Rider – cruised to the finish line in 5:19.8, ahead of Washington-Lee (5:21.2) and the TC Lightweight 8 (5:30.7).
After "racing up" for most of the season in the elite Men's First 8 category, Titan juniors and sophomores in the Men's Junior 8 boat treated fans on the Georgetown waterfront to an exciting final with a fast 4:49.9 win, a boat length ahead of second-place Yorktown. It was a sweet victory for rowers Townson Cocke, Emmett Cocke, Carl Chidlow, Jr., Christian Burrell, Tom Schmolcke, Jonathan Hernandez, Kenneth Crumm, and Griff Austin and coxswain Clare Williams.
The TC Women's Third 8 boat continued to beat expectations and opponents as they clinched a Charlie Butt Regatta victory with a time of 5:33.4 over Yorktown (5:49.0) and W-L (5:53.5). The Titan Women's 3-V-8 includes rowers Grace Willmore, Maggie Coombs, Cameron Bowman, Annalise Roberts, Julianne Joven, Ellie Nebolsine, Emily Surratt, and Lillian MacBride, and coxswain Zaida Calix-Tello.
The Titan Men's Frosh 8 boat raced other freshmen at the Charlie Butt in a warm-up for the VASRA state championship on May 5. TC Class of 2021 rowers Noah Schuerhoff, Barry Najarro-Blancas, Harris Babin, Matthew Posson, Stephen Ralis, Braden Porterfield, Anthony Castellano, and Patrick Kenny and coxswain Jake Solomon clinched a 4:54.9 triumph over McLean (4:58.3) and Yorktown (5:33.5) as they prepare for a run at the Virginia Men's Frosh 8 title that the TC Class of 2018 brought back to the Dee Campbell Rowing Center three years ago.

In a repeat of their April 21 race in Delaware, the TC Women's Novice 8 notched a 5:43.4 victory at the Charlie Butt, just .9 seconds ahead of Sidwell Friends and more than 10 seconds over third-place Yorktown. Rowers Shevlin Jaffe, Taylor Motsinger, Ava Snyder, Nikki Harris, Ella Scontras, Maile Organek, Violet Knott, and Zoe Lutzker, along with coxswain Maddy Glanz, power one of three novice women's boats in the TC Williams rowing program.
In other finals at the Charlie Butt, the Titan Women's Fourth 8 placed third, the Women's Frosh 8 placed second, and the Men's Novice 8 placed third in their respective races. These and other TC crew junior boats will compete on Day 1 of the VASRA Championship Series held at Occoquan Reservoir on May 5.