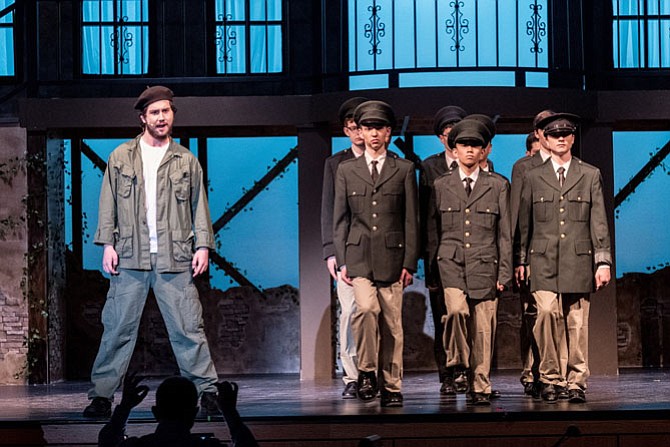 One doesn't have to cry for Langley's rendition of the famous rock opera "Evita." Written by Tim Rice, "Evita" tells the the story Eva Peron, originally Eva Duarte, the wife of Juan Peron and First Lady of Argentina, as narrated by Revolutionary and Guerrilla leader Che Guevara. This particular production, much like the idolized woman herself, captivated the audience with its dazzle and "star quality."
The musical opens up with a black and white clip, which is interrupted with a photograph of Eva, announcing her death. This is an example of one of the fantastic technical aspects of the show. Other tech aspects that should be praised include the masterful lighting, which matched the tone of each musical number and added to the beautiful set and overall experience.
The rest of the show is a flashback which reveals the true life story of the immortal first lady.

She starts her life as lower class and climbs her way up the social ladder, clashing with the preexisting upper class and military. She charms a prominent military figure, Colonel Juan Peron, who she marries. She helps him increase his presence and he later becomes president, making her the first lady of Argentina. This musical shows the woman behind the name Eva Peron.
Jessica Peros looked stunning and performed at a professional level in the title role of Eva Peron. She exhibited impressive vocals, as well as incredible dancing skills all throughout the show, which is a feat within itself as the show is almost entirely sung.
Mark Bosset, as Che Guevara, and Sean Leech, as Peron were also notable figures in this production with impressive vocals and dancing skills. Bosset brought intensity to the role and commanded attention while he was on stage. Leech fit his stoic character's personality perfectly, but when sharing the stage with Eva, his love for her was very believable.
As previously mentioned, the show is almost entirely sung, so the ensemble has to be strong. Every member of the cast brought high energy to every scene, making some of the most notable songs of the night those involving the entire cast. The choreography was masterfully done, and the company wide dance members were a stellar sight to see. The soldier's dance numbers were incredibly synchronized and striking. The two featured dancers, Mary Peterson and Elenitsa Sgouros, in the number "Rainbow High," were elegant and visibly beautiful on stage, as well. All in all, since virtually everyone had a dancing part in this show, the cast performed extremely well and showcased a wide variety of skills.
Ultimately, Langley's Production of "Evita" was an event not to be missed!