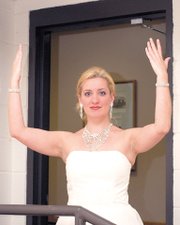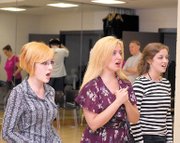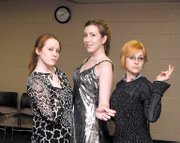 The McLean Community Players will stage the Tony Award-winning musical, "Evita," for eight weekend performances, beginning July 11, at the Alden Theatre in McLean. The show will be co-directed by husband and wife team, Kevin and Pamela McCormack and produced by Mike Scott. "Evita," which is written entirely in song, will be accompanied by an orchestra conducted by Music Director John Edward Niles.
THE MUSICAL, written by Andrea Lloyd Webber and Tim Rice, follows Eva Peron, a controversial Argentinean figure, from the age of 15 until she died of cancer at 32. Eva was born out of wed-lock and lived in poverty until her marriage to President Juan Peron. However, upon gaining power she still crusaded for the working class and was never accepted by the Argentinean nobility.
"She was idolized by millions, hated by the aristocracy, hated by the military, and feared by those who spoke against her," said Jennifer Lambert of Oakton, who plays Eva in the show. "… There were some who praised her as if she was a saint and then you have people who say she was corrupt and manipulative."
Lambert said that although it has always been a dream of hers to star in "Evita," the role was not easy to master.
"It's an opera, so it's fully sung. There's a challenge in that," she said. "Andrew Lloyd Webber is a genius, but he writes notes that are very difficult, a vast range of notes … It's all very big musical numbers."
THE STORY is narrated by Ché, who is loosely modeled after the Latin American revolutionary Ché Guevara and played by Lansdowne resident Randy Jones. Jones said the role of Ché is that of a story teller but he also operates as the voice of the Argentinean people.
"At different times I assume various characters in the scenes in her life," Jones said. "I literally, in the production, wear lots of hats."
Both Lambert and Jones have previously worked in professional theater productions. Jones said commitment and love of the theater was found throughout the 30 cast members of the volunteer-based production.
"What draws me to community theater," he said, "is that when you are volunteering your time, not doing it for a pay-check, the passion is phenomenal."