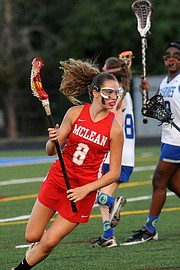 The McLean girls' lacrosse team on Tuesday made its first regional tournament appearance in at least 10 years when the Highlanders traveled to take on West Potomac.
Elise Koehl enjoyed the regional experience so much she did her best to ensure the Highlanders would stick around for a while.
Koehl, a senior midfielder and University of Louisville signee, scored a career-high 10 goals, leading the Highlanders to an 18-10 victory during the opening round of the 6A North region tournament at West Potomac High School.
It was the Highlanders' first regional tournament appearance in at least a decade, according to results from laxpower.com.
McLean, the No. 3 seed from Conference 6, trailed early in the first half before taking control with a 7-1 run. The Highlanders led 9-5 at halftime and Koehl scored six second-half goals to help McLean pull away from West Potomac, the No. 2 seed from Conference 7.
"I've wanted it ever since I was a freshman, so now that we actually can accomplish that, it's really awesome," Koehl said. "It's really rewarding after three years of hard work to finally get it."
McLean earned a trip to regionals by beating South Lakes 11-9 in the conference quarterfinals on May 14. Once the Highlanders arrived, Koehl, who scored 55 goals during the regular season, helped ensure they would advance. Along with 10 goals against West Potomac, Koehl teamed up with junior midfielder Alessandra Pelliccia to help the Highlanders dominate draw control.
"Elise has really stepped up this year; she's had an amazing season," second-year McLean head coach Caroline Cochrane-Braswell said. "… It's been really awesome to see her step up like that. … I think her biggest stumbling block has been getting in her own head and this season she's let that go and she's just come out to every game wanting it to be just for fun --- just having fun, playing a game, doing her thing instead of worrying about the other team and what they've got."
Pelliccia scored four goals for McLean. Freshman attacker Cassidy Slavik finished with two goals, and sophomore attacker Rebecca Rice and freshman midfielder Paulina DeAnda each had one.
The victory improved McLean's record to 10-4 --- the Highlanders' first winning season in at least 10 years, according to laxpower.com.
"They're going into every game with that attitude that they can win this," Cochrane-Braswell said, "and I don't think that's been there before."
The Highlanders will face Conference 5 champion Robinson in the quarterfinals at 5 p.m. on Thursday, May 28 at Woodson High School.
"We're excited," Koehl. "We're just going to play all out --- nothing to lose."