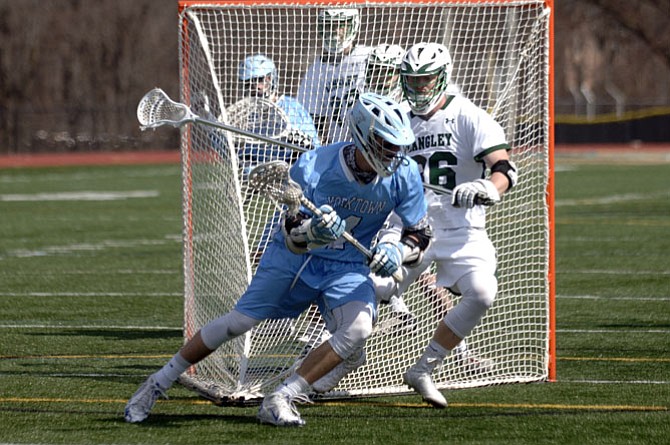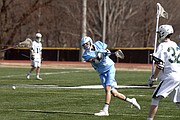 "This is only the 15th year of varsity lacrosse in Arlington and we're trying to compete with a lot of these schools that have traditions that are twice as long as that."
— Yorktown boys' lacrosse coach Greg Beer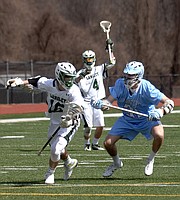 The 2014 Yorktown boys' lacrosse team experienced the best season in program history, reaching the 6A North region tournament semifinals.
The Patriots, an annual contender in the former Patriot District, held their own against the tougher competition resulting from the VHSL's six-class realignment. Yorktown finished runner-up in the Conference 6 tournament, losing to perennial power Langley by one goal in the championship game.
After beating Oakton in the opening round of the regional tournament, Yorktown knocked off a South County team that entered the regional quarterfinals with a 15-1 record. Six days later, the Patriots ended their season with a 10-8 loss to eventual state champion Robinson in the semifinals.
Nine months later, Yorktown is working toward cementing its status as an annual region contender. The Patriots return a strong corps of defensive players, but will are looking for multiple younger athletes to help contribute on offense.
"This is only the 15th year of varsity lacrosse in Arlington and we're trying to compete with a lot of these schools that have traditions that are twice as long as that," Yorktown head coach Greg Beer said. "We want to get to the regional semifinals every year. We want to get to be a regional contender and be known as that."
Yorktown opened the 2015 season with a 9-7 victory at Centreville on March 16. Five days later, the Patriots traveled to face Langley. After falling behind 4-0, Yorktown kept it close into the third quarter, but the Saxons scored the game's final six goals and secured a 12-4 win on March 21 at Langley High School.
"I just don't think we wanted it as much as we should have," Yorktown sophomore midfielder Gaelen Creedon said. "We were definitely as good as they were, we just didn't execute when it came down to it."
Langley finished state runner-up last season, has played in five of the last six state finals and won four consecutive state titles from 2009-2012.
"We just have to keep playing them more and I'm glad we're in the same conference now because we have to play them every year," Beer said. "Because we play them every year now, [the Patriots are] going to have to understand it's not the National District anymore. These are the teams that we have to compete with and try to beat to try to get district championships and compete for the region."
Creedon was a bright spot for Yorktown. The midfielder scored three goals, the final one cutting Langley's lead to 6-4 with 4:04 remaining in the third quarter.
"Look at him: he's a sophomore, he's a physical, physical presence," Beer said. "He's a big kid. He's 6-2, 6-3, almost 200 pounds. He looks like a college midfielder and he's only a sophomore. … Today was definitely an eye-opener for all of us on what he's going to bring for us the next two years."
Junior midfielder Matteus Jaramillo scored a goal for Yorktown.
Yorktown returns a solid group of defensive players, led by junior defenseman Conor Shears, senior long-stick midfielder Tim Aldinger, senior defenseman Quinn Cox and junior goalkeeper Mason Pollack.
The Patriots' scoring threats include senior attackmen Charlie Tiene and Alex Balser.
In the opener against Centreville, Tiene, senior midfielder James Mountain and Jaramillo each scored two goals. Junior midfielders Stephen Glagola and Gordon Coates, and Balser each scored one.
Tiene had three assists, and Mountain and Balser each had one.
Tiene, Aldinger, Balser and Cox are team captains.
Yorktown defeated Edison 8-4 on Monday night, improving its record to 2-1. The Patriots will travel to face Hayfield at 7:15 p.m. on Thursday, March 26.