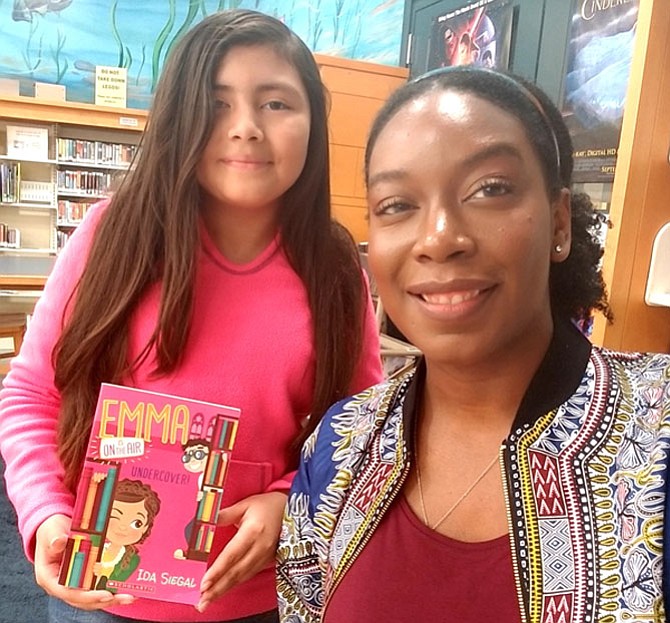 From student, Chelvin
I have been working with Ms. Kristie since 2016. Each week we read books and sometimes work on homework. I read fiction books about kids who do exciting things like the Sofia Martinez series and animal books, like "Dog Loves Books." I also read nonfiction books. A recent one we read is "Wilma Unlimited" which tells the story of Wilma Rudolph and how she conquered her sickness to win her race in the Olympics. A few things Ms. Kristie has taught me how to read big words, use a dictionary, and to do math problems.
Some things I have enjoyed doing with Ms. Kristie is going to the movies, going to the pool, and visiting the National Harbor. I enjoy that we end our session by grabbing a bite to eat.
Ms. Kristie is the best tutor/mentor in the world. She has taught me new things throughout the years that I did not know about, but now I do. I like Wright to read, because I am more confident in my reading.
From tutor/mentor, Kristie
I have been volunteering with Wright to Read since 2016. My favorite part about volunteering is being able to reach beyond social constructs to make a connection with someone who is completely different from me. Volunteering helps me to remember that although we all may have different backgrounds, we can still relate to each other, learn from each other and help each other succeed. It breaks down the negative societal stereotypes that are often placed on us (especially when we are at our lowest), and allows the true strength of humanity to shine by using our compassion and charity to uplift each other.
I volunteer because I believe it is my responsibility to use what I have to be a good role model and to contribute to those in my community that may not have access to all of the resources they need. When I was a child there were many good people who helped me, spent time mentoring me and taught me things my parents were not able to — they encouraged and reinforced my big dreams to go beyond where I was. I want to be that bridge for children, so they won't feel like they are limited because of their surroundings or because of learning disabilities and things out of their control. I want them to know there are other people in their community, who will care, help and invest in them so they can dream big and become volunteers in their communities as well.
When my student, Chelvin, tells me about her progress at school — how her teachers notice her improved reading and math skills, it encourages me. One day she told me that during an evaluation of her reading comprehension level her teacher kept having to go back to get higher level books because Chelvin was reading beyond where she had been. When she was finally done, Chelvin had advanced so many levels that her teacher was so excited, she was in tears and hugged her. She then took her to her former teacher and the principal to tell them as well and they all celebrated with her. Hearing that from Chelvin and seeing her realize that our time together really does pay off, was very touching. It made me see that she really is paying attention to what I do and say, so instead of feeling bad about not knowing something, she instead commits herself to learning it (even if we have to use creative ways and extra work to learn it). We encourage each other, that's been the most rewarding part of this program.
Wright to Read, a program of The Campagna Center, is a member of the Alexandria Mentoring Partnership (AMP). AMP was created in 2006 to ensure that quality mentors and mentor programs are available for Alexandria's youth and young adults in need. To learn more about Wright to Read, visit www.campagnacenter.org/programs/elementary-level or to learn more about AMP, visit: www.alexandriava.gov/Mentoring.